Celtic Cross Spread
Welcome to Lotus Tarot's Free Celtic Cross Spread. Below are ten cards that have been drawn for you, feel free to shuffle these if you like. The cards are listed in ten positions which are explained in further on how to interpret the Celtic Cross Spread.
For the sake of those on mobile and tablet devices, we have laid out the cards in a two to a line format. Your cards are numbered as shown in the image here, from 1 through to 10.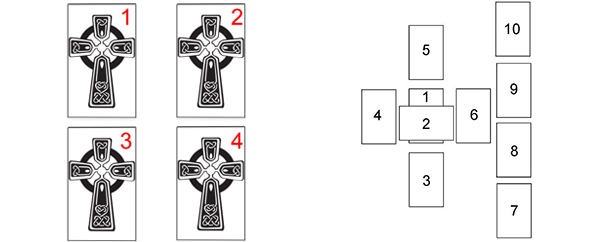 Your Spread Layout VS The Celtic Cross Spread
Simply match up your cards to the positions and find the positions descriptions below.
How To Use This Reader
Click on the card image to reveal your card
Click the cards image again to read the description
Use "Shuffle Cards" to begin a new reading
Use "Flip All Cards" to overturn all the cards at once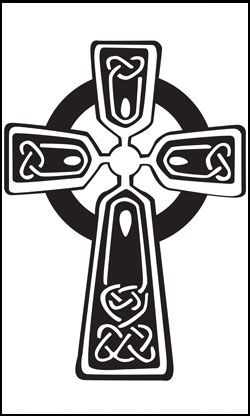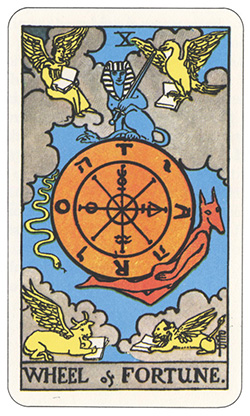 Wheel Of Fortune
There is an optimistic message when this card is drawn.
The Wheel Of Fortune card is related to Jupiter, and its magic. Good luck is coming your way and brings with it good fortunes.
Being a very karmic card, in that it is a wheel, indicates that good karma is coming back to you.
The card also wants you to know that you do not need to do anything different or in addition to your current efforts, as the good fortune is already deserved.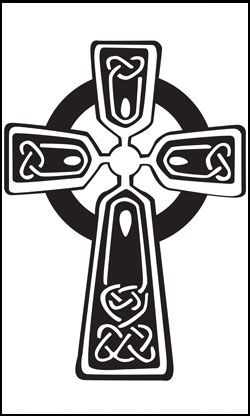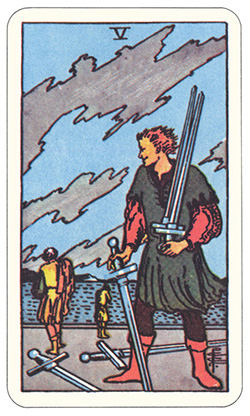 Five Of Swords
The Five of Swords shows the end of a battle, resulting in injury and although won, is nothing to celebrate about.
This card is closely associated with drama and hurtful messages given and received during the course of the situation.
Sometimes you may win a battle, but the victory leaves a bad taste in your mouth and was probably not even a battle worth fighting.
The message here is to be true in your endeavors and to pick your battles carefully, for many are not worth the pain they inflict.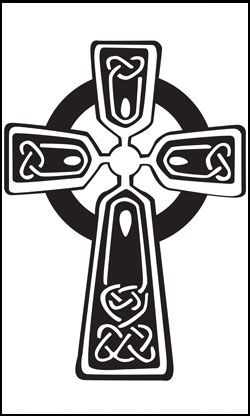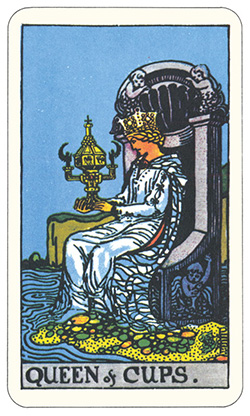 Queen Of Cups
The Queen of Cups is associated with love and compassion.
All those around her, and those who have this card drawn, are graced with the joy she brings.
Any love or compassion that you give or receive today, will be of a level much higher than usual, and be true and sincere.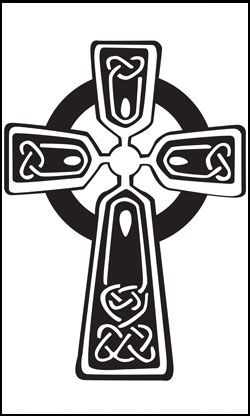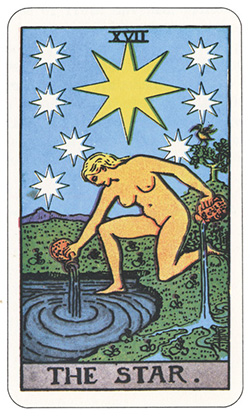 The Star
The Star brings creativity and peace the majority of the time when it is drawn. Being related to the zodiac sign Aquarius, it can signal a re-connection with a loved one.
It is a great reminder that having gone through tough times, that better times always present themselves eventually. These better times can have somebody involved who is integral in the process, and doing it without reward. Often, readers refer to this card as a persons guardian angel.
This is a great card to receive in a favorable position, as it is often associated with good fortune and success.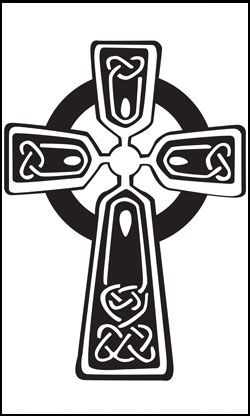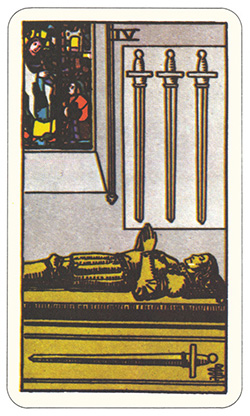 Four Of Swords
The Four of Swords is a card of healing. While this card also represents a loss, it is often associated with the loss of a problem.
The message that this card brings, is to ensure you are getting the rest and recovery you need.
One cannot hold the sword and battle the challenges that life brings, without adequate rest and recovery.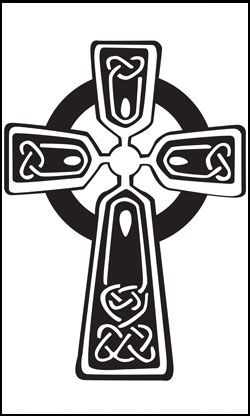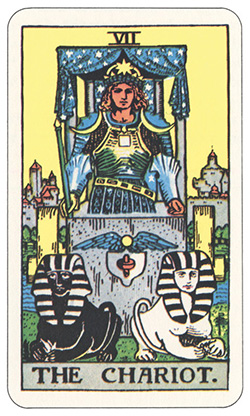 The Chariot
The Chariot is telling you that you need to take control of current situation. This card can also indicate that the Zodiac sign, Cancer, is likely to show up soon.
Cancerians are usually successful through hard work and continued efforts. That can also be the message here, that your success is sure, but it will take long, hard work.
Are you considering a more senior position at work or taking on more work? What about study or upskilling?
The Chariot is assuring you of your future success, but reminding you to keep your eyes on the prize and not give up.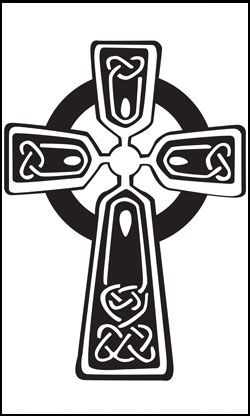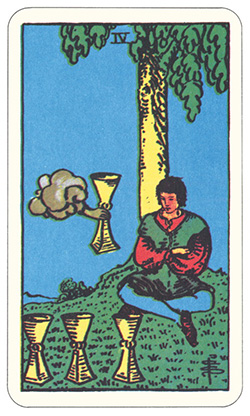 Four Of Cups
The Four of Cups brings the message that obvious answers are often right under your nose.
The image is of a man looking unhappily at the three cups in front of him and this symbolizes that he is not happy with the way that things are going. Little does he know that the fourth cup is right next to him, being handed to him, yet he is blind to it.
You need to set your expectations correctly, and realize that when you become too stubborn, that you close doors of opportunity.
The answer is likely to be in plain sight, but you are shadowing it with your thoughts and expectations. Relax, back off the defense and see things how they truly are in reality.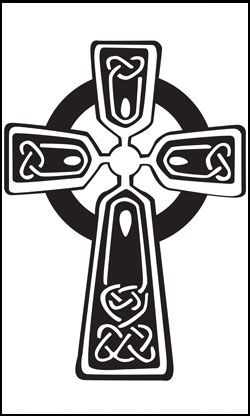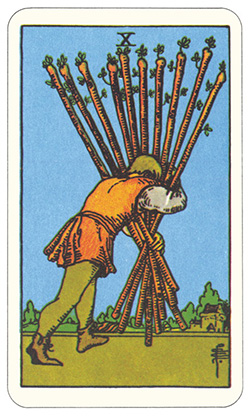 Ten Of Wands
When you see the Ten of Wands, it can often mean you have many a burden in your life and you may be overwhelmed with everything that is going on.
There is a sense of urgency all of the time, and it might be getting you down. Many of these burdens are often personal emotions that you are having problems handling.
Being a "Ten" card, you can be certain that these burdens will soon subside and you will come out of the other side, shining.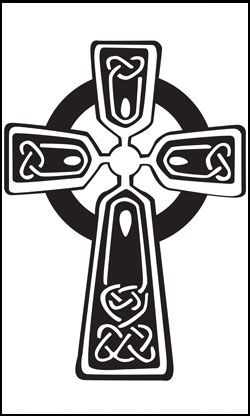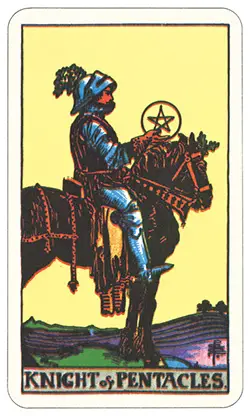 Knight Of Pentacles
The Knight of Pentacles, usually brings a message of a male figure coming into your life. This male is usually very handy and the type of person to assist you with problems.
As a partner, this can be a great man who is willing to carry the extra weight a partnership can bring, while helping with day to day tasks that are outside of your circle of influence/control.
In business, this also brings good news of a superior, or larger business, helping you towards your goals. The card also brings with it the message of trust and that the Knight can be trusted.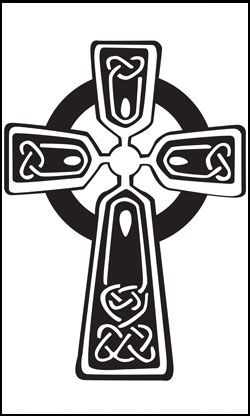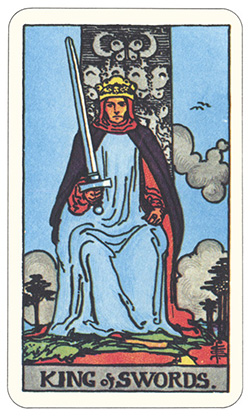 King Of Swords
The Sword cards represent the air signs and when this card is drawn, it usually means that a Libra, Gemini, or Aquarius is in the picture, however, it's usually an Aquarius.
It can also symbolize somebody who is in control of some land, perhaps a landlord, council or governing body over some area of land that concerns you. When this card is drawn, it usually means that everything associated with the land or property are in sound order due to following the proper procedures.
If this is related to an emotional situation, it is a reminder to remove all emotion and to use logic and reason to make the correct decision.
Shuffle Cards
Flip All Cards
How To Interpret This Spread
This image shows the true layout of a Celtic Cross Spread. As mentioned above, we have laid out your cards in an easy to view format as you are receiving your reading on a mobile device, tablet or computer, and the traditional layout does not suit digital formats.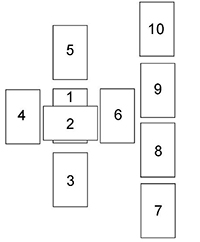 CARD 1 = PRESENT
CARD 2 = POTENTIAL/CHALLENGES
CARD 3 = CAUSE/FOCUS
CARD 4 = PAST
CARD 5 = ATTITUDES & BELIEFS/STRENGTHS
CARD 6 = NEAR FUTURE
CARD 7 = APPROACH (SUGGESTION)
CARD 8 = WHAT YOU SHOULD KNOW (OUTSIDE INFLUENCE)
CARD 9 = HOPES/FEARS
CARD 10 = OUTCOME/FUTURE
The Celtic Cross spread is the oldest known and without a doubt, the most popular pattern for Tarot readings. It is said that the survival of this spread is due to the energy from the amount of people who use this particular spread daily, and the decades of use throughout the world.
It is divided into two sections, namely the "Circle/Cross" on the left side, made up of two crosses – a central one (two cards) nested within a larger cross (six cards), and the Staff on the right side, as shown in the above diagram. The "Circle/Cross" stems from the Celtic cross which can be found throughout the country of Ireland. It symbolizes the unity of all events.
The feminine energy of the Circular section works together with the masculine energy of the Staff section.