Celtic Cross Spread
Welcome to Lotus Tarot's Free Celtic Cross Spread. Below are ten cards that have been drawn for you, feel free to shuffle these if you like. The cards are listed in ten positions which are explained in further on how to interpret the Celtic Cross Spread.
For the sake of those on mobile and tablet devices, we have laid out the cards in a two to a line format. Your cards are numbered as shown in the image here, from 1 through to 10.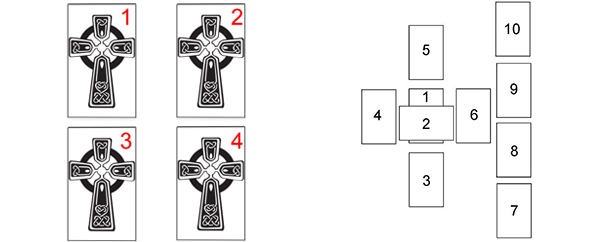 Your Spread Layout VS The Celtic Cross Spread
Simply match up your cards to the positions and find the positions descriptions below.
How To Use This Reader
Click on the card image to reveal your card
Click the cards image again to read the description
Use "Shuffle Cards" to begin a new reading
Use "Flip All Cards" to overturn all the cards at once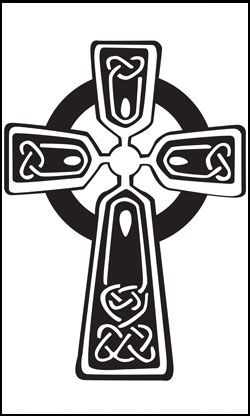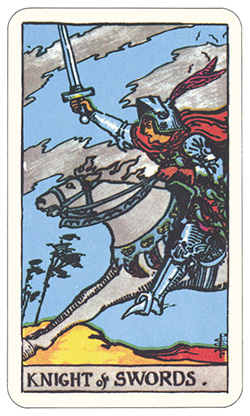 Knight Of Swords
When the Knight of Swords is drawn, it often means there is a person who is creating a sense of urgency around you, that is often unwarranted.
Manipulation is a theme associated with this card, and there may be somebody who is acting out selfishly, without any concern for the other parties involved.
You need to keep a clear head, as Swords strike quickly and often without warning.
Being assertive and clear about your path is your best defense and prepares you for evasive action to avoid any strikes of the Sword here.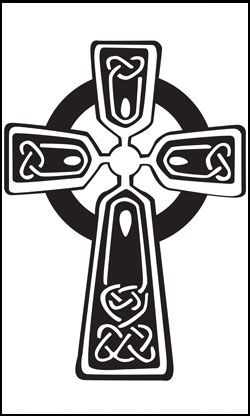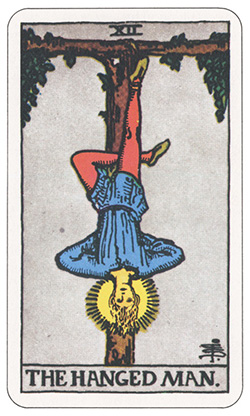 The Hanged Man
While this card shows a sinister image, it generally means the end of an ongoing problem is coming.
This can relate to a bad job, partner, health issue, etc. Perhaps you are holding on to something that is holding you back.
There is a message here to let go of any dead weight, and to stop doing things that do not truly fit into your life goal. Letting go, however, could be painful in the short term, but is better for you in the long run.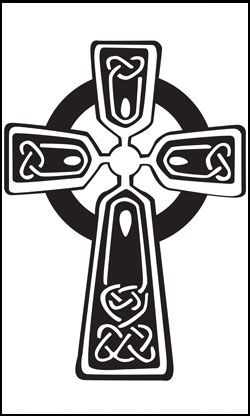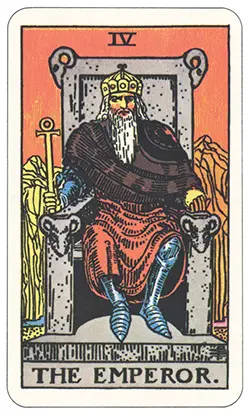 The Emperor
The Emperor Card is closely associated with Aries, which in turn makes the Emperor an excellent leader in your Tarot reading.
As a natural born leader, he commands a level of authority. When this card is drawn, it could be representing a judge, law enforcement officer, superior or somebody in a similar position in your life. The Emperor can also symbolize a father figure. This is because it represents Jupiter, the god of gods.
While the Emperor is of a high ranking and standing, he is a warm character, and is extremely fair and just, that can offer the same love of a father. This is certainly a welcome card and one that you can count on, wherever it appears in your reading.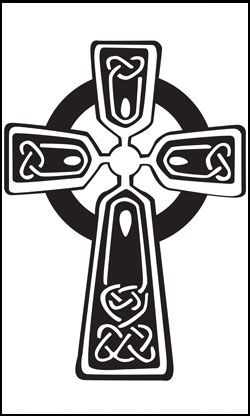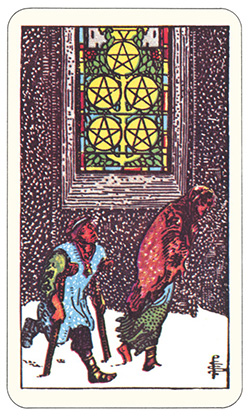 Five Of Pentacles
This cards image symbolizes the cold and dark message it brings with it.
The image depicts a woman poorly dressed, outside in the cold and dark. The card warns of helplessness and being left out. When this card appears in your reading, it can mean you are facing, or about to face a loss, either in love or finance. Those who are abused in relationships will often receive a visit from this card.
Are you perhaps moving somewhere else due to finances? This card can symbolize a move due to an unfortunate event.
There is a sense of depression and feeling down. You should pay close attention to where this card appears in your reading, and prepare accordingly.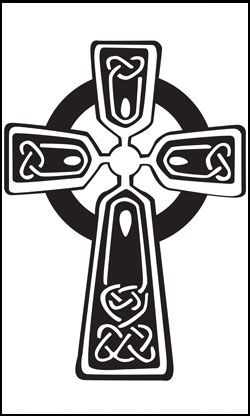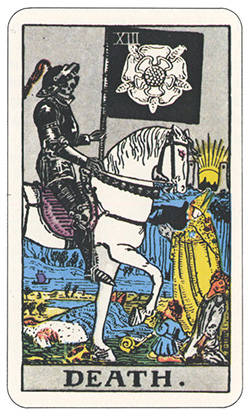 Death
While the Death card can sound rather scary and ominous, it does not have to be at all. This card is not always a sad card, and indeed, it very rarely means an actual death.
The Death card directly corresponds with the Scorpio zodiac, which is often associated with deep and personal transformations. There is a bright sun in the background of this card, so be sure not to think of this as a "dark card".
The common message when you come across this card, is often the death of a "way of life". Some kind of transformation is taking place and you are changing as a person. While many types of change can be uncomfortable, this card shows the death of an old way, with a bright shining sun on the horizon, meaning good things are to come.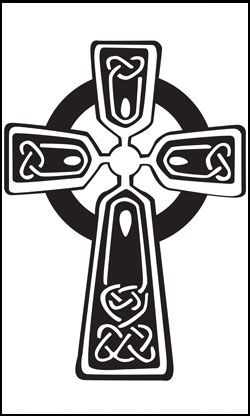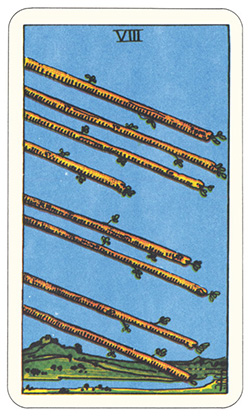 Eight Of Wands
The Eight Of Wands can promise a brief succession of enlightening events are on their way.
Wands cards are often a symbol of swift activity. As the image shows, the 8 wands are moving downward and they are moving quickly. The new buds on these wands represent growth and abundance, giving indication of fertile nature towards the incoming events, most often related to your dreams and questions you had at the time of this reading.
While this card symbolizes movement, it essentially means that the movement is happening to you, not that you need to make a move. It can mean that travel is coming soon, and most likely will be with somebody special.
It is also referred to as the "Cupid's Arrow", and something passionate and exciting is sure to come your way soon.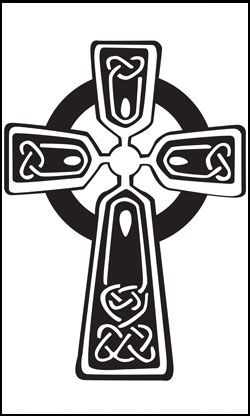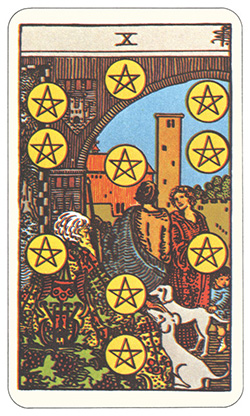 Ten Of Pentacles
Lucky you! This is a great card to have drawn in a Tarot Reading, and almost certainly means yes to a question you have.
Whether it be in love or career, this card brings a very lucky message that you are in for a real treat.
Money, love and career are the three biggest benefactors of this card, and you will certainly be happy with the message this card brings.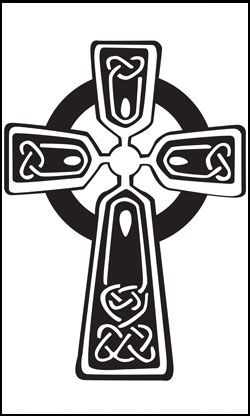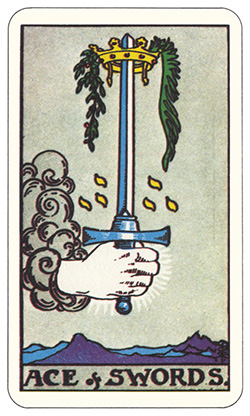 Ace Of Swords
When the Ace of Swords graces you with its appearance, it often means there is an arrival of a new and powerful beginning to something in your life.
It usually concerns you intellect and thought processes, have you launched something new recently?
The Ace of Swords also contains a message of truth and clarity.
More often than not, it means that you can now see the light on an important matter, or that this matter has been resolved.
This card brings with it the power of the sword, ready to arm you with blessings and benefits going forward.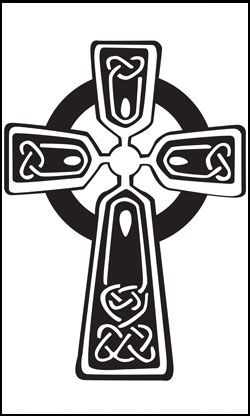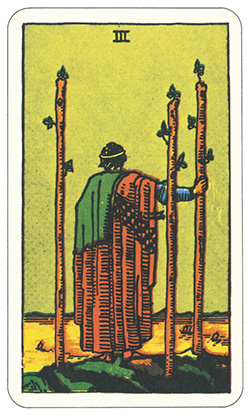 Three Of Wands
There is a sense of great optimism when the Three of Wands turns up in a reading. Being an action card, it is a reminder to keep at it, for the prize is just around the corner.
This card also represents promise. Perhaps today you are going to receive or give someone something that was promised, and the moment will be very joyous, bringing all involved parties closer together and tightening their bonds.
There is also a message here to reach out to loved ones who are at a distance, in either location or personal connection, and to inject some fire and energy into that connection. All parties will feel joy and happiness with such contact.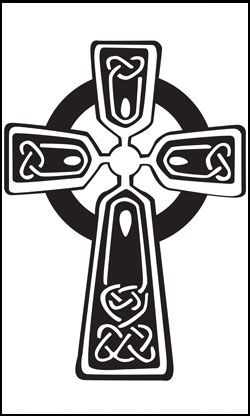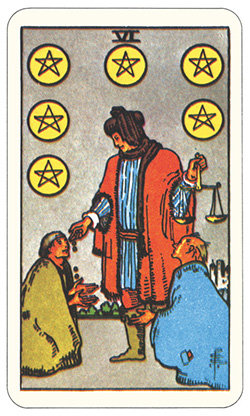 Six Of Pentacles
The Six of Pentacles is a great card to receive in a reading and represents a gift.
It especially signifies that the gift is something you so desperately need or desire. Perhaps you have felt left out in a relationship, or your finances have been low.
Whatever your strong feelings of desire or need are, you can be sure you will be rewarded with them.
Shuffle Cards
Flip All Cards
How To Interpret This Spread
This image shows the true layout of a Celtic Cross Spread. As mentioned above, we have laid out your cards in an easy to view format as you are receiving your reading on a mobile device, tablet or computer, and the traditional layout does not suit digital formats.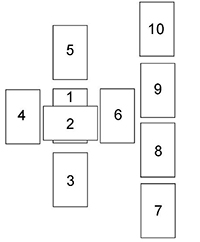 CARD 1 = PRESENT
CARD 2 = POTENTIAL/CHALLENGES
CARD 3 = CAUSE/FOCUS
CARD 4 = PAST
CARD 5 = ATTITUDES & BELIEFS/STRENGTHS
CARD 6 = NEAR FUTURE
CARD 7 = APPROACH (SUGGESTION)
CARD 8 = WHAT YOU SHOULD KNOW (OUTSIDE INFLUENCE)
CARD 9 = HOPES/FEARS
CARD 10 = OUTCOME/FUTURE
The Celtic Cross spread is the oldest known and without a doubt, the most popular pattern for Tarot readings. It is said that the survival of this spread is due to the energy from the amount of people who use this particular spread daily, and the decades of use throughout the world.
It is divided into two sections, namely the "Circle/Cross" on the left side, made up of two crosses – a central one (two cards) nested within a larger cross (six cards), and the Staff on the right side, as shown in the above diagram. The "Circle/Cross" stems from the Celtic cross which can be found throughout the country of Ireland. It symbolizes the unity of all events.
The feminine energy of the Circular section works together with the masculine energy of the Staff section.