Celtic Cross Spread
Welcome to Lotus Tarot's Free Celtic Cross Spread. Below are ten cards that have been drawn for you, feel free to shuffle these if you like. The cards are listed in ten positions which are explained in further on how to interpret the Celtic Cross Spread.
For the sake of those on mobile and tablet devices, we have laid out the cards in a two to a line format. Your cards are numbered as shown in the image here, from 1 through to 10.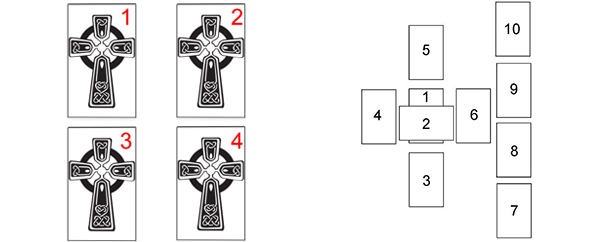 Your Spread Layout VS The Celtic Cross Spread
Simply match up your cards to the positions and find the positions descriptions below.
How To Use This Reader
Click on the card image to reveal your card
Click the cards image again to read the description
Use "Shuffle Cards" to begin a new reading
Use "Flip All Cards" to overturn all the cards at once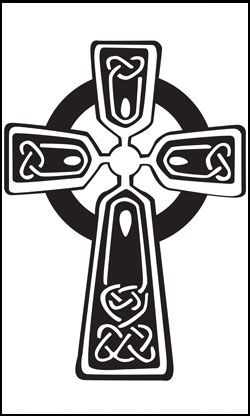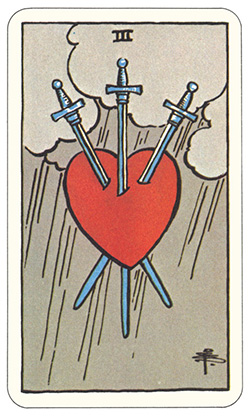 Three Of Swords
The Three Of Swords is most certainly an unwelcome card, often symbolizing heartbreak, or being hurt by somebody close to you.
There can also be a message here that any pain you had from a previous heartbreak, is still hurting you and to let go. There is no point dwelling on the past. It is water under the bridge and you must let go in order to stop being held back.
In business, this can also mean a business deal has gone or will go bad, often with a third party being the root cause.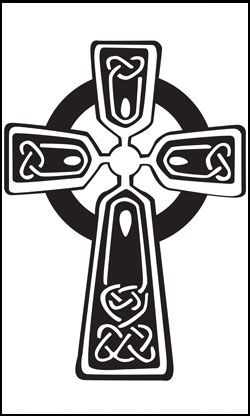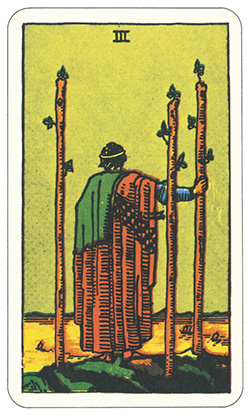 Three Of Wands
There is a sense of great optimism when the Three of Wands turns up in a reading. Being an action card, it is a reminder to keep at it, for the prize is just around the corner.
This card also represents promise. Perhaps today you are going to receive or give someone something that was promised, and the moment will be very joyous, bringing all involved parties closer together and tightening their bonds.
There is also a message here to reach out to loved ones who are at a distance, in either location or personal connection, and to inject some fire and energy into that connection. All parties will feel joy and happiness with such contact.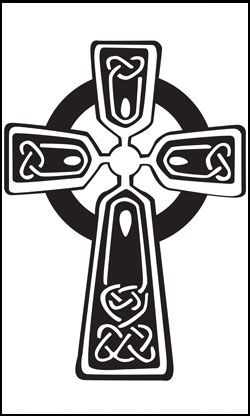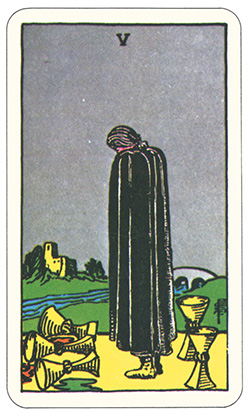 Five Of Cups
This is not always a welcome card when drawn. It gives a stern reminder that nothing will last forever, not even sorrow.
The image depicts a sad and sorrowful soul, with their back turned and looking at the ground. The three cups that have fallen over mean that there is a sense of loss and most certainly some type of disappointment, while the two that remain standing are cups of love and are encouraging you to remember that not all the cups have been knocked over.
Try to remain optimistic when bad luck strikes.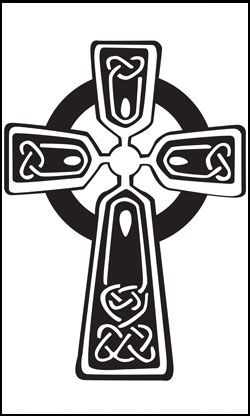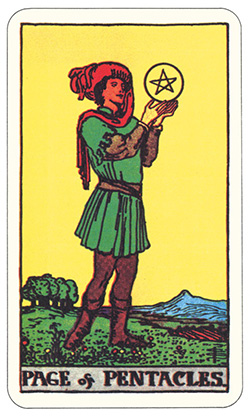 Page Of Pentacles
Pentacle cards usually represent finances or work related matters. Page cards are usually the messengers of important information.
The Page of Pentacles, requires you employ an intellectual look into any pressing problem.
Today is likely to be a perfect day for such intellectual reflection and resolution.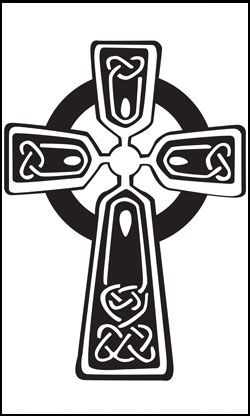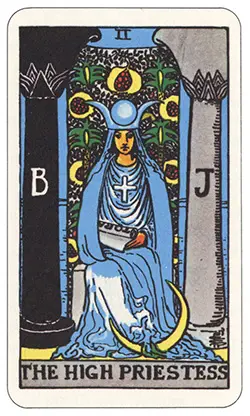 The High Priestess
Often, when you think you are a know it all, the High Priestess will turn up in a reading. There is a good chance that somebody is hiding something from you or concealing some information. You don't know as much as you think you might do about something.
While the High Priestess is a very spiritual card, this appearance is a reminder that you will need to get to the bottom of what is going on, using your own skill and reasoning.
You need to search deep within yourself, to figure out how to best approach the situation, ensuring you uncover the hidden information.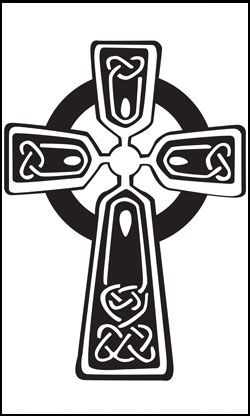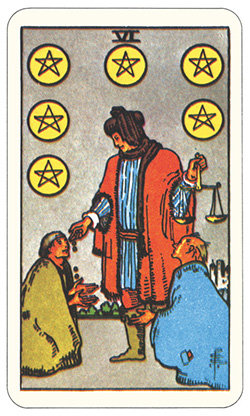 Six Of Pentacles
The Six of Pentacles is a great card to receive in a reading and represents a gift.
It especially signifies that the gift is something you so desperately need or desire. Perhaps you have felt left out in a relationship, or your finances have been low.
Whatever your strong feelings of desire or need are, you can be sure you will be rewarded with them.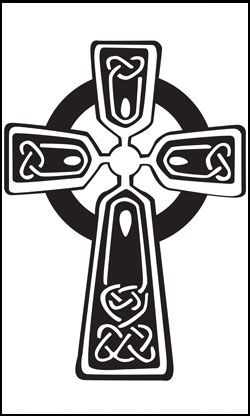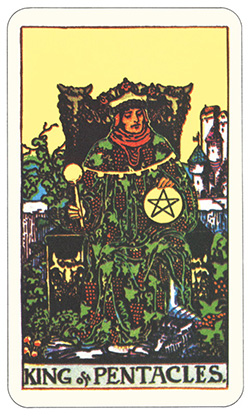 King Of Pentacles
The Pentacles cards represent money and the Earth signs. When the King of Pentacles arrives, it can mean that there is an older man about to provide some financial assistance, or at least be a part of it.
It can also mean that an older man is due to enter your life to assist with your success. It could be an older lover, and because this is a Pentacles card, he is likely to have money and offer you security in more ways than just finances.
This card is always a great one to receive in a reading, as it means that stability, wealth and security could be coming your way.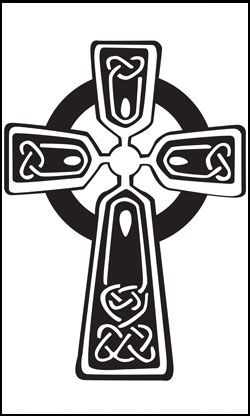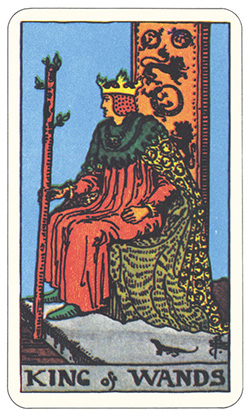 King Of Wands
The King of Wands is usually associated with an older man, and his assistance in a pressing matter.
He relates to the fire signs, and while young at heart and full of energy, he is very straight and direct in his ways. He exudes wisdom and has arrived to help you.
His appearance can often signify that a gift or luck in finances and wealth are about to cross your path. An excellent card to receive in any Tarot Reading.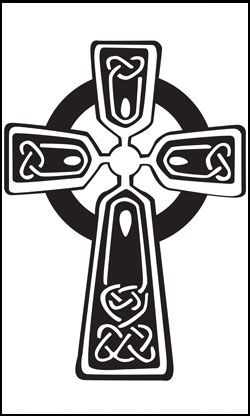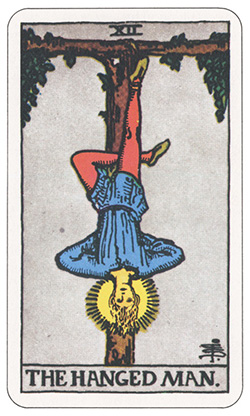 The Hanged Man
While this card shows a sinister image, it generally means the end of an ongoing problem is coming.
This can relate to a bad job, partner, health issue, etc. Perhaps you are holding on to something that is holding you back.
There is a message here to let go of any dead weight, and to stop doing things that do not truly fit into your life goal. Letting go, however, could be painful in the short term, but is better for you in the long run.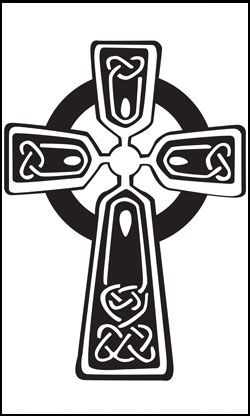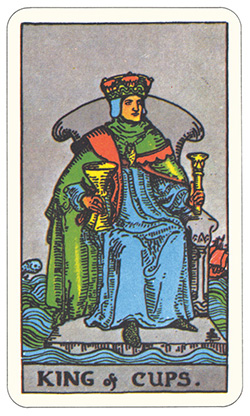 King Of Cups
An appearance from an older man who brings a lot of love is likely when the King Of Cups shows up in a Tarot reading.
It may not, however, be an old man, but somebody who symbolizes the love of an old man. A father figure is often represented here.
As Cup Cards represent the Water Signs, a Cancerian, Piscean, or Scorpion may also enter your day to assist with any emotional issues you are currently going through.
This card can also present itself when somebody who cares about you very much is thinking about you. This kind of love is unquestionable, and the feelings will last for a long time. A very warm card to receive, indeed.
Shuffle Cards
Flip All Cards
How To Interpret This Spread
This image shows the true layout of a Celtic Cross Spread. As mentioned above, we have laid out your cards in an easy to view format as you are receiving your reading on a mobile device, tablet or computer, and the traditional layout does not suit digital formats.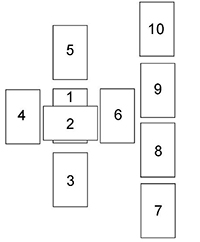 CARD 1 = PRESENT
CARD 2 = POTENTIAL/CHALLENGES
CARD 3 = CAUSE/FOCUS
CARD 4 = PAST
CARD 5 = ATTITUDES & BELIEFS/STRENGTHS
CARD 6 = NEAR FUTURE
CARD 7 = APPROACH (SUGGESTION)
CARD 8 = WHAT YOU SHOULD KNOW (OUTSIDE INFLUENCE)
CARD 9 = HOPES/FEARS
CARD 10 = OUTCOME/FUTURE
The Celtic Cross spread is the oldest known and without a doubt, the most popular pattern for Tarot readings. It is said that the survival of this spread is due to the energy from the amount of people who use this particular spread daily, and the decades of use throughout the world.
It is divided into two sections, namely the "Circle/Cross" on the left side, made up of two crosses – a central one (two cards) nested within a larger cross (six cards), and the Staff on the right side, as shown in the above diagram. The "Circle/Cross" stems from the Celtic cross which can be found throughout the country of Ireland. It symbolizes the unity of all events.
The feminine energy of the Circular section works together with the masculine energy of the Staff section.