Latin Tarot Explained
The Latin tarot is one of the oldest decks of tarot cards known. These tarot cards are mostly used for entertainment purposes, but can also be used to read a person's future. What's unique about Latin tarot cards is that even today, the results which they offer are very precise and a true reflection of what is happening in people's lives. The pictures and landscapes that are printed on the cards have a huge significance to the Latin people.
For quite a long time, the link between mathematical significance of tarot and trump card meanings have been masked. There is hardly enough information regarding the original significance of tarot trump cards, save for the pictures that appeared to point to certain directions and which offered help to people who really wanted to comprehend the meanings of certain symbols. Many people really tried hard to guess what the links of the symbolic pictures in Latin tarot were actually intended to be. However, the majority of experts are still pondering if indeed the truth will one day be uncovered.
With time, the cards started being used mostly for Latin tarot reading and the pictures on the cards oriented to the psychic-mystery path of life. Throughout the worlds many different cultures, people who practice them perceive events or things differently. Although the Latin tarot cards may seem strange, the information which they relay is just similar to that of regular cards which are often used to offer an accurate prediction of the future. These cards were thought to have supernatural and angelic powers and whenever there was a higher energy; gods could talk to us through these cards. It is believed that they can provide us with guidance about what we should do in life by providing important hints.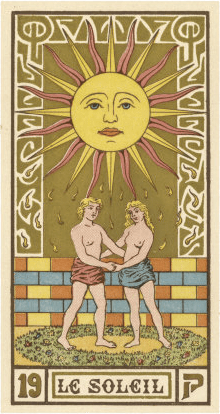 Origin of The Latin Tarot Cards
Of course, the origin of Latin tarot cards can easily be deduced by looking at the Latin name that is listed on a regular deck. Shortly after the advent of the decks, they were not only given numbers, but parallel connections were also made, therefore providing the twenty two cards with Hebrew and Latino meanings. But one thing to take note of is that the Latin system of tarot didn't become popular at first and the names were not available to the public.
After some time, several experts started a study of Latin tarot cards and found interesting results. From a closer look, you can discover that the first letter of the Latin psychic card matches with Latin alphabets from A to Z. The letter Y was not introduced until a later date when Greek transcription was required, so in technical terms, only 22 letters are associated with the Latino alphabet. What is even more interesting is the fact that today's translation of Latin tarot cards fits into that of trump cards with both the numeric and alphabetical order. Flamen is the name given to the High Priest and it is the 6th card in a total of 22 cards and it's also the 6th letter in the alphabetical order. This link: https://www.foreverandaday.biz/facts-about-tarot?rq=tarot provides a detailed historical perspective about Latin tarot. If you are one of those who want to get a quick glimpse of the history of this kind of tarot, this link has everything you need.
For several decades now, people have had the impression that the symbolic features which are offered by the tarot cards were designed in a manner that characterize a wide range of Gods and Goddesses. Rather, recently experts have said that the connections which link the numbers and Latin letters were somehow a coincidence and there was no important purpose behind it. Knowing the meaning and how to analyze the results is what matters the most today and this is the reason why it's of great importance that you hire a real psychic to do the reading even if you will have to part with more money. Other options of doing Latin tarot psychic reading include: emails, phone and through free tarot reading online.
The Pythagorean-Symbol
Some Latin tarot experts deduced that a few of the connections that were found indicated the Pythagorean symbol which is a representation of the transient spirits of counting. As per the Pythagorean beliefs, especially with regard to the structures that are available in the universe carried a lot of importance to physical and human properties. It is not surprising that free Latin tarot readings are now very popular among folks and this popularity continues to grow. It cannot be stressed enough the importance as well as the significance which the trump cards have played the world over. Although the meaning of these cards may not be fully understood, their readings are surprisingly precise. The magical auras which surround the tarot cards continue to capture everyone's thoughts.
(This link: https://www.insightfulpsychics.com/latin-tarot/ offers valuable information for those who want to know the amazing meaning and mysteries of the shapes and figures that have been printed on Latin tarot cards. The information here is of value and worth reading).
What does it take to get powerful Latin-tarot psychic readings?
A powerful psychic reading offers an amazing experience. The knowledge and experience of the intuitive psychic reader and the medium that is used can change your readings from being drab to fab.
Check these important tips:
1. Be Psychologically Prepared.
What is it that made you think of getting help from a Latin tarot reader? Take some time and think about it a day or two before you go for the reading. Think about the questions which you would like to ask the tarot reader during your readings. This is of paramount importance especially when you are dealing with a spiritual medium.
2. Be Relaxed.
Most people get nervous especially when starting out on their Latin-tarot readings. If you arrive at a Latin tarot reading session and you discover that you are a bundle of nerves, you may take a few minutes and have a hearty chat with the reader. Let them know that you are nervous and a little talk with help ease out things. People who have never had a reading before are often the ones who are affected by nervousness.
3. Ask The Most Appropriate Questions.
This is of great importance because it helps you in exploring certain issues in depth. For instance, if you have had troubles with your in-laws, you may ask the reader-what you should do to get well along with them. Not "will I ever get along with my in-laws?" The first question here provides you an opportunity to explore the problem at hand in depth while the second question merely provides a yes or no answer which will not be of great help. Also, there are certain issues that pertain to your past life which you cannot discover or solve with questions that require a yes or no answer. By using the right questioning style, you stand better chances of enjoying a powerful psychic reading.
4. Psychic Reading Is All About Energy.
It cannot be overemphasized that this is an important ingredient to a powerful psychic reading. It's super important to ensure that the energy is kept flowing when the tarot reading is taking place. Those who don't have enough energy oozing out can be compared to cars with deflated tires which cannot move an inch when pushed. One excellent way of achieving this goal is to remain open to all possibilities. Discuss all the issues that made you seek for psychic readings, but it's also of great importance that you be ready for the unexpected. A reputable tarot reader will have a set intention to provide you with the best reading during your session.

5. You Should Not Set Yourself Up For Disappointment.
There are certain people who want to hear certain validating evidence when doing Latin tarot reading. But what happens when they don't hear what they want? Well, some become hugely disappointed. If there is a word which you would want to hear and the reader does not mention it, all you should do is go with the rest of information if it makes sense. It's imperative to remember that the main job of a spiritual medium is to ensure that those in spirit are given a voice. You may perhaps not hear what you wanted, but you will hear what the heavens desire and feel to be most important.
6. Write Down Important Details
Most professional psychic readers recommend to their clients that they should take notes. This should be the case even if you believe you have a great memory. Human beings will never remember everything, so it's of paramount importance that you take notes. Note down points that may seem important to you. In some instances, some issues may seem insignificant, but you should write them down too. They may make sense to you at a later date because someone in your family may be able to confirm this kind of information later.
7. Choose a Proper Medium
Some psychic readers offer phone readings and it's more preferable to use land-line telephone than mobile. However, if cellphone is all that you have, it's of paramount importance that you choose an area that has an excellent reception.
8. Eliminate Unnecessary Distractions
Being distracted takes away your focus which is an important ingredient when doing Latin tarot reading. If you are having a telephone reading, it's advisable to be in a cool quiet place. But for face to face readings, you should turn off your phone and avoid being in a rush. In most instances, choosing a great Latin tarot reader is not always enough as there are a number of other important things that should be taken into consideration.