The 6 Card Tarot Spread allows for a medium scale reading. That is it's not short like a one card spread or a love reading, nor a long reading attempting to gain deep insight into the future.
The number 6 is an energetic number and is deeply connected to the soul. 
How To Use This Reader
Click on the card image to reveal your card
Click the cards image again to read the description
Use "Shuffle Cards" to begin a new reading
Use "Flip All Cards" to overturn all the cards at once
MOBILE AND TABLET USERS SHOULD ROTATE FOR A BETTER EXPERIENCE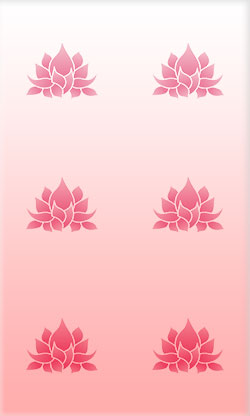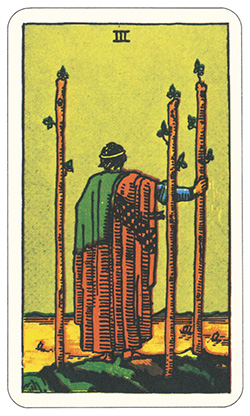 Three Of Wands
There is a sense of great optimism when the Three of Wands turns up in a reading. Being an action card, it is a reminder to keep at it, for the prize is just around the corner.
This card also represents promise. Perhaps today you are going to receive or give someone something that was promised, and the moment will be very joyous, bringing all involved parties closer together and tightening their bonds.
There is also a message here to reach out to loved ones who are at a distance, in either location or personal connection, and to inject some fire and energy into that connection. All parties will feel joy and happiness with such contact.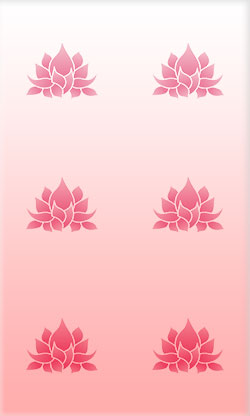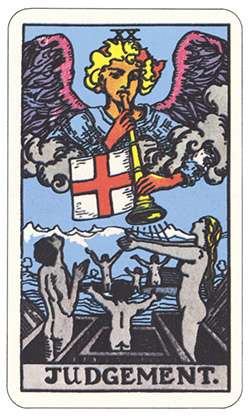 Judgement
The Judgement card has an image of judgement day. The card has a karmic message, in that all things come around full circle.
This cards presence is a reminder that water flows under the bridge and that all will be OK in due time. If you have been investing time, money and/or heart into something, the appearance of this card brings a message that such efforts will soon be rewarded. Having faith and being patient, however, are two essential qualities to nurture here, as while the card brings good news, the payoff can take time.
The Judgment Card can also symbolize a change within you that has been coming for a long time.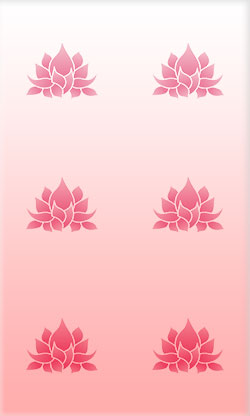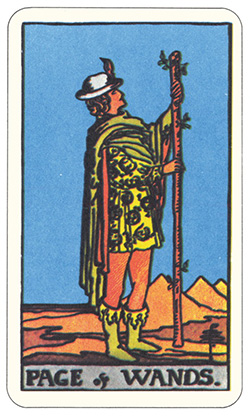 Page Of Wands
Page cards often bring an energetic and sudden message.
Being a wand card also, means that something new and exciting is likely to unfold, taking you by surprise.
In love, it can mean a new relationship, or a significant development in one. In business, you are likely to be met with a sudden, yet exciting and positive experience.
This card also brings with it, a warm feeling of positive energy.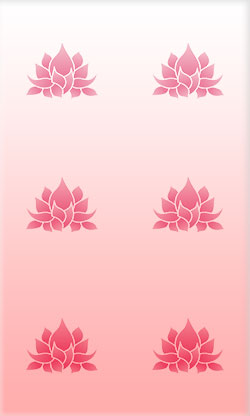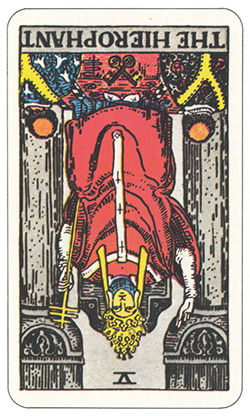 The Hierophant – Reversed
The Reversed Hierophant is a warning to use caution. There is something not quite right here and this may not turn out the way you are hoping.
There is confusion and possibly mind games going on, and these need to be overcome in order to move forward.
You are going to have to look closely into this connection and realise that is is probably not the one you are looking for.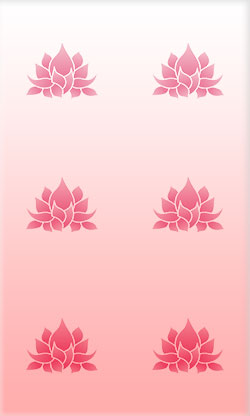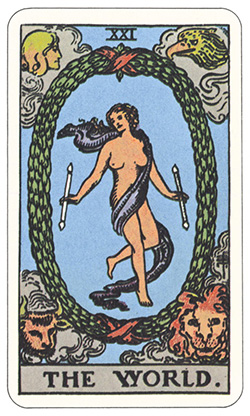 The World
This is a wonderful card to receive in any reading. It is also very closely related to the Sun Card, however this card is more of a philosophical one. It also shares close ties with the Wheel Of Fortune card.
This Tarot card displays the four signs of the zodiac in each corner, Aquarius, Leo, Scorpio, and Taurus. These signs represent each of the four pillars that uphold the foundation of a world of completion. It is said that when this card is revealed that a major part or cycle of your life is drawing to a close, however, with that closing, comes a bright, new opening.
Success should be in your life right now, as the woman depicted is celebrating her success. Wherever this card lands in your reading will mean that this area is currently full of success.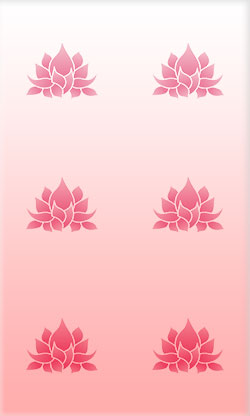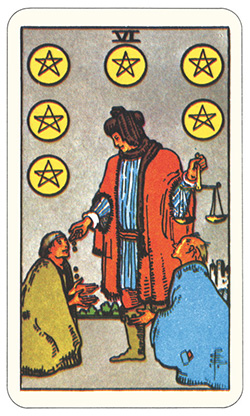 Six Of Pentacles
The Six of Pentacles is a great card to receive in a reading and represents a gift.
It especially signifies that the gift is something you so desperately need or desire. Perhaps you have felt left out in a relationship, or your finances have been low.
Whatever your strong feelings of desire or need are, you can be sure you will be rewarded with them.
First Position: Your inner feelings of yourself
Cards in the first position represent how you feel about yourself, regardless good or bad. Depending on what is happening around you, and indeed the remaining cards in this 6 card spread, this position should indicate how your feelings may change moving forward.
Second Position: Your desires
The second card represents the position on your current desires and should give some indication on how to make your move.
Third Position: Your worries
Pay particular attention to this card as it appears halfway through the spread and can change how you interpret the remaining 3 cards. While the card may not give a good message, it could be an indication of what might come in the future, should you not overcome your current worry and/or fear.
Fourth Position: A positive outlook
Cards that deliver a message on the fourth position strongly indicate good things that are due, and can be related to both positions 2 and 3.
Fifth Position: Your obstacles
The card in the fifth position indicates your obstacles and pitfalls that may potentially arise. This card is related to all positions.
Sixth Position: The overall outlook
The sixth and final card in the 6 card tarot spread is the card that solidifies the overall message. If you have been able to gain some clarity in the messages from the previous 5 cards, yet need some reassurance, this card will confirm it. The confirmation can be either positive or negative.
Play Our Other Free Tarot Games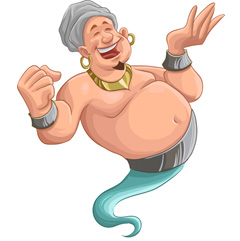 An alternative to the Yes No Oracle, The Genie can also give you a yes or no answer. It is a fortune telling card that you can use everyday for a single question where yes or no is enough.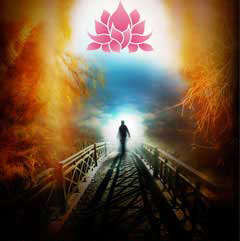 Our very popular Yes No Oracle is our basic fortune telling card that you can use everyday to ask for an answer.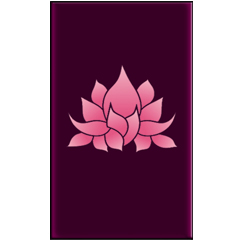 Our One Card Tarot reader is a tool that you can use frequently, and most people use this either daily, on a certain day of the week, monthly or on special occasions such as birthdays.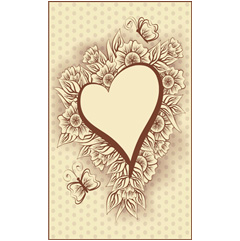 Our free, 3 Card Love Tarot Readings are available to you, without any obligation or requirement for your personal details.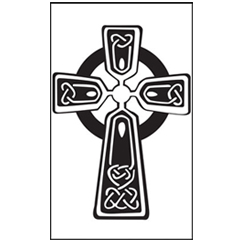 The most famous and well known Tarot spread that has stood the test of time, right here, free of charge, anytime!