Celtic Cross Spread
Welcome to Lotus Tarot's Free Celtic Cross Spread. Below are ten cards that have been drawn for you, feel free to shuffle these if you like. The cards are listed in ten positions which are explained in further on how to interpret the Celtic Cross Spread.
For the sake of those on mobile and tablet devices, we have laid out the cards in a two to a line format. Your cards are numbered as shown in the image here, from 1 through to 10.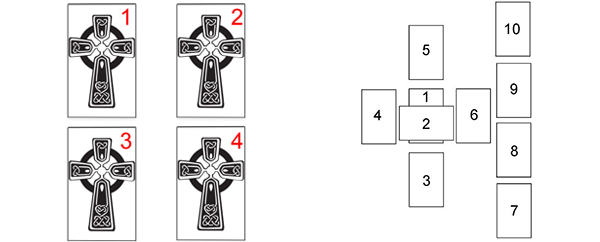 Your Spread Layout VS The Celtic Cross Spread
Simply match up your cards to the positions and find the positions descriptions below.
How To Use This Reader
Click on the card image to reveal your card
Click the cards image again to read the description
Use "Shuffle Cards" to begin a new reading
Use "Flip All Cards" to overturn all the cards at once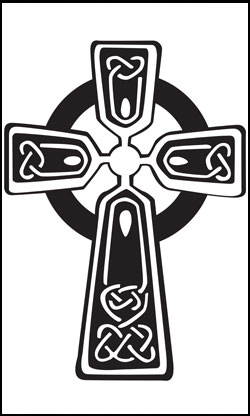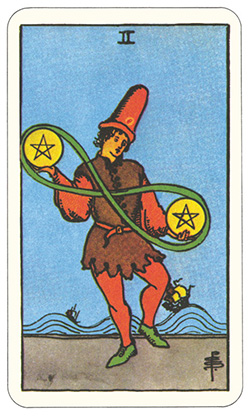 Two Of Pentacles
The infinity symbol is clearly visible here, with two pentacles being balanced within it.
In Tarot spreads, two often focuses on another party or things that are coupled. Given the symbol and the number two, this is a very karmic card, which also represents toing and froing in your life.
The cards message is that you must be fair and just in what you are doing, as it will come back to you.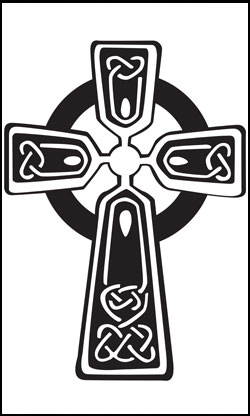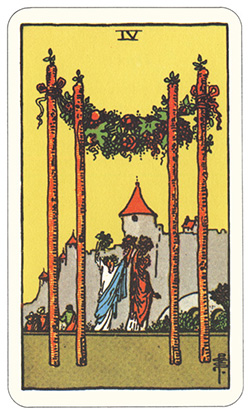 Four Of Wands
The number four is a symbol of foundation, and in western cultures, is a strong number of stability.
This card brings the message that there is good news coming, and bright skies ahead. Many times when this card arrives, it is because you have been struggling with something for too long, and that this problem is about to be resolved. This is the magic of the wand!
The number four also has a close association to the home, therefore you may be moving or renovating your home, or have something to do with a loved ones home.
Re-location to a new and better home outside of your current city or country could also be the message here.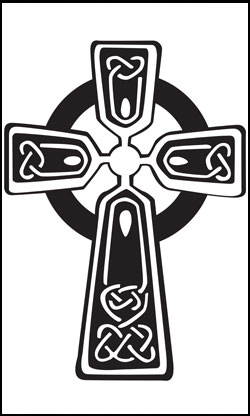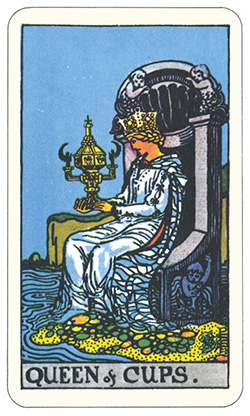 Queen Of Cups
The Queen of Cups is associated with love and compassion.
All those around her, and those who have this card drawn, are graced with the joy she brings.
Any love or compassion that you give or receive today, will be of a level much higher than usual, and be true and sincere.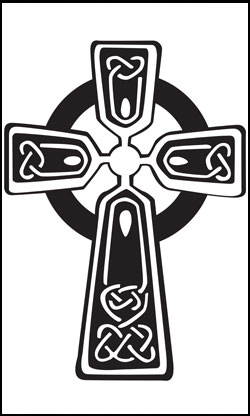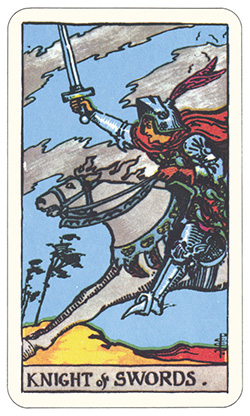 Knight Of Swords
When the Knight of Swords is drawn, it often means there is a person who is creating a sense of urgency around you, that is often unwarranted.
Manipulation is a theme associated with this card, and there may be somebody who is acting out selfishly, without any concern for the other parties involved.
You need to keep a clear head, as Swords strike quickly and often without warning.
Being assertive and clear about your path is your best defense and prepares you for evasive action to avoid any strikes of the Sword here.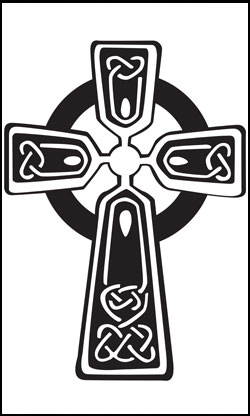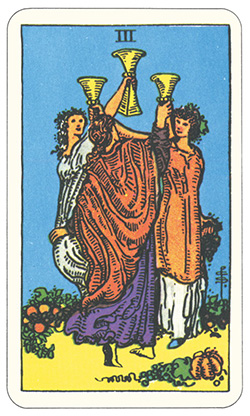 Three Of Cups
The Three of Cups is a celebration card. When you see this card, you can generally expect a celebration or special occasion. Many people consider this card to represent a date.
It can also symbolize a wedding or similar occasion. There is a high chance that this occasion will feature at least several women, as this is a very feminine card.
The card also means that good times are ahead and there are causes for celebration going forward, regardless of the situation at hand.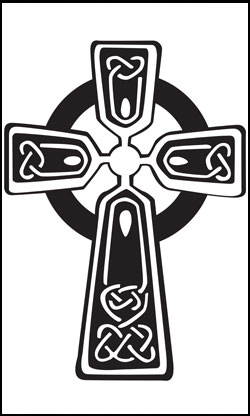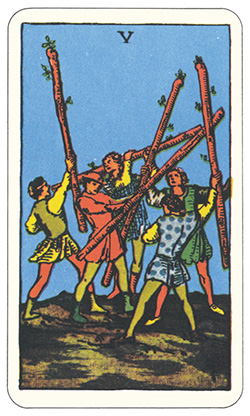 Five Of Wands
Also known as the competition card, the Five of Wands can bring an unwelcome message.
In business, it can mean that there is somebody trying to outdo you, and their methods may not be "by the books".
In love, it can mean that somebody is also trying to compete for your partner, or perhaps you!
While this cards message moves quickly as it is a wand card, you can be sure that this problem will disappear as quickly as it arrives.
A great reminder to not take things for granted, and that there will always be someone else trying to outdo you.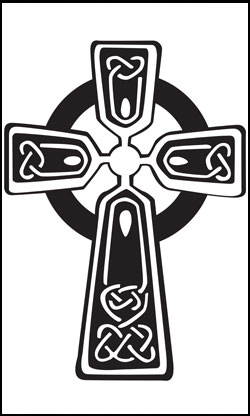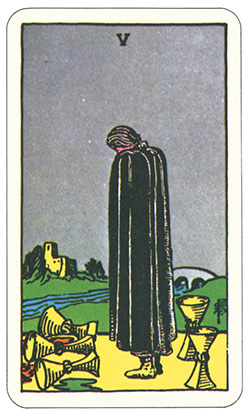 Five Of Cups
This is not always a welcome card when drawn. It gives a stern reminder that nothing will last forever, not even sorrow.
The image depicts a sad and sorrowful soul, with their back turned and looking at the ground. The three cups that have fallen over mean that there is a sense of loss and most certainly some type of disappointment, while the two that remain standing are cups of love and are encouraging you to remember that not all the cups have been knocked over.
Try to remain optimistic when bad luck strikes.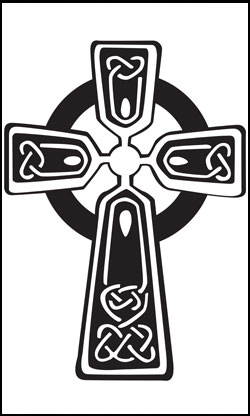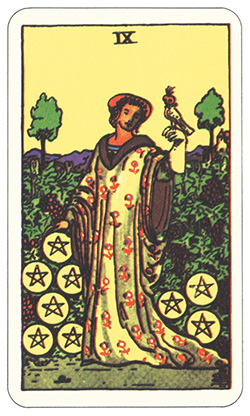 Nine Of Pentacles
The Nine of Pentacles represents the end of a cycle for you and a successful outcome.
Great finances and/or love are likely to be in your life now, or the very near future.
This card can also bring a message of travel, due to your hard efforts, most likely a vacation. It also symbolizes pregnancy.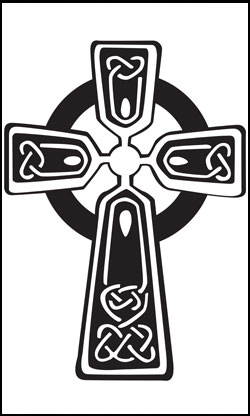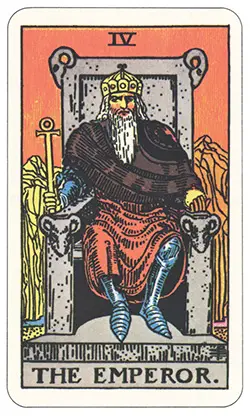 The Emperor
The Emperor Card is closely associated with Aries, which in turn makes the Emperor an excellent leader in your Tarot reading.
As a natural born leader, he commands a level of authority. When this card is drawn, it could be representing a judge, law enforcement officer, superior or somebody in a similar position in your life. The Emperor can also symbolize a father figure. This is because it represents Jupiter, the god of gods.
While the Emperor is of a high ranking and standing, he is a warm character, and is extremely fair and just, that can offer the same love of a father. This is certainly a welcome card and one that you can count on, wherever it appears in your reading.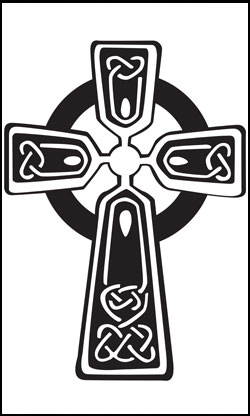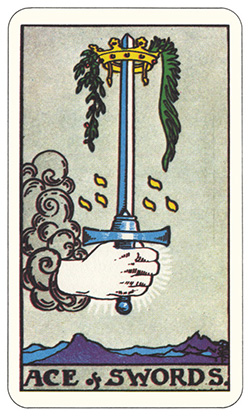 Ace Of Swords
When the Ace of Swords graces you with its appearance, it often means there is an arrival of a new and powerful beginning to something in your life.
It usually concerns you intellect and thought processes, have you launched something new recently?
The Ace of Swords also contains a message of truth and clarity.
More often than not, it means that you can now see the light on an important matter, or that this matter has been resolved.
This card brings with it the power of the sword, ready to arm you with blessings and benefits going forward.
Shuffle Cards
Flip All Cards
How To Interpret This Spread
This image shows the true layout of a Celtic Cross Spread. As mentioned above, we have laid out your cards in an easy to view format as you are receiving your reading on a mobile device, tablet or computer, and the traditional layout does not suit digital formats.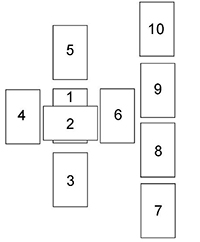 CARD 1 = PRESENT
CARD 2 = POTENTIAL/CHALLENGES
CARD 3 = CAUSE/FOCUS
CARD 4 = PAST
CARD 5 = ATTITUDES & BELIEFS/STRENGTHS
CARD 6 = NEAR FUTURE
CARD 7 = APPROACH (SUGGESTION)
CARD 8 = WHAT YOU SHOULD KNOW (OUTSIDE INFLUENCE)
CARD 9 = HOPES/FEARS
CARD 10 = OUTCOME/FUTURE
The Celtic Cross spread is the oldest known and without a doubt, the most popular pattern for Tarot readings. It is said that the survival of this spread is due to the energy from the amount of people who use this particular spread daily, and the decades of use throughout the world.
It is divided into two sections, namely the "Circle/Cross" on the left side, made up of two crosses – a central one (two cards) nested within a larger cross (six cards), and the Staff on the right side, as shown in the above diagram. The "Circle/Cross" stems from the Celtic cross which can be found throughout the country of Ireland. It symbolizes the unity of all events.
The feminine energy of the Circular section works together with the masculine energy of the Staff section.