Celtic Cross Spread
Welcome to Lotus Tarot's Free Celtic Cross Spread. Below are ten cards that have been drawn for you, feel free to shuffle these if you like. The cards are listed in ten positions which are explained in further on how to interpret the Celtic Cross Spread.
For the sake of those on mobile and tablet devices, we have laid out the cards in a two to a line format. Your cards are numbered as shown in the image here, from 1 through to 10.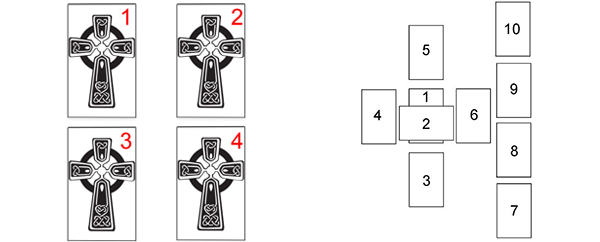 Your Spread Layout VS The Celtic Cross Spread
Simply match up your cards to the positions and find the positions descriptions below.
How To Use This Reader
Click on the card image to reveal your card
Click the cards image again to read the description
Use "Shuffle Cards" to begin a new reading
Use "Flip All Cards" to overturn all the cards at once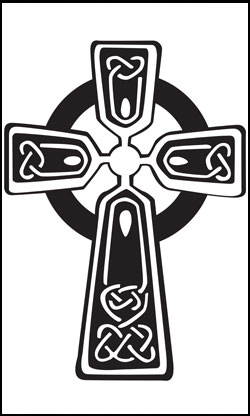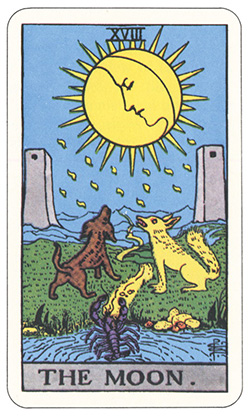 The Moon Card
When The Moon card is drawn, you must understand that it is trying to tell you something. Being related to Pisces, which is a water sign, it symbolizes that your emotion is controlling your decisions.
Drawn in this position, you must follow your inuition, and that includes reaching out to others who have a strong intuition. If you can zone out of all the noise around you and search deeply within, what is your intuition trying to tell you?
You may have been looking for an answer for a long time, and this card assures you that it will come to you, but that you must focus and follow your intuition in this matter.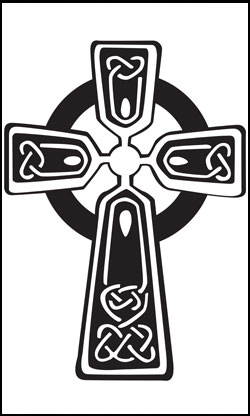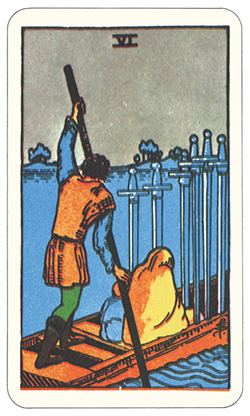 Six Of Swords
Physical or spiritual travel is present here. Aside from some potential travel for work or a vacation, this card also symbolizes the moving on of a problem in your life.
You have let possibly let go of something bothering you for a long time, and have offered forgiveness, either internally or externally.
The six swords in this image represent a wall of protection that you have created for yourself, though. While forgiven, you have not forgotten, and will take these lessons with you on your journey.
The Six of Swords reminds us that in sorrow and grief, courage and inner strength always prevail.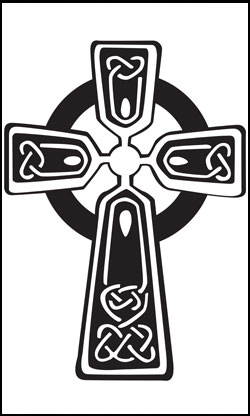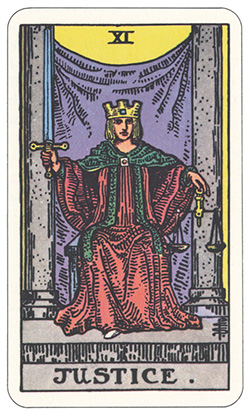 Justice
The pillars of justice are both prominent features in this card, along with the woman on the throne and what she symbolizes.
The zodiac sign, Libra, is represented by this card, which is fitting as Libra is the sign of balance and harmony and teaches us to do the right thing in life. Often, when this card is drawn, it indicates some form of a legal matter in your life that involves your decisions.
It can also simply represent information that is critical to your decision making process, or the decision made by somebody else, which involves you. The good news is that the decision is usually in your favor.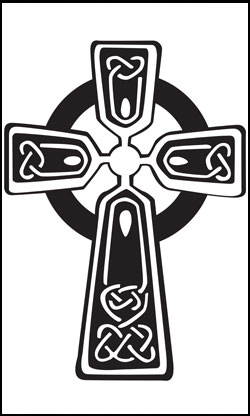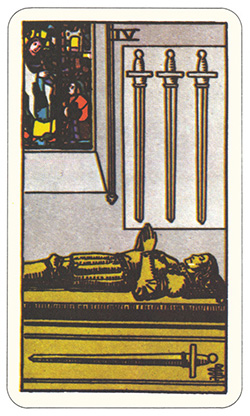 Four Of Swords
The Four of Swords is a card of healing. While this card also represents a loss, it is often associated with the loss of a problem.
The message that this card brings, is to ensure you are getting the rest and recovery you need.
One cannot hold the sword and battle the challenges that life brings, without adequate rest and recovery.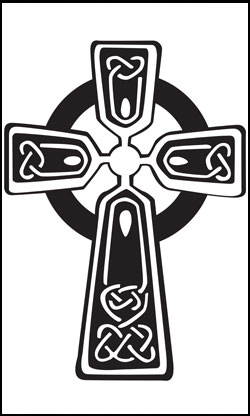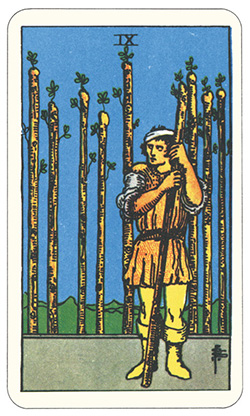 Nine Of Wands
There is a message here to not take any drastic or decisive action too quickly.
You need to be on your defenses and evaluate everything in your current plans before making a big move.
It is a reminder that with patience, comes reward, and that you have progressed much further than you think.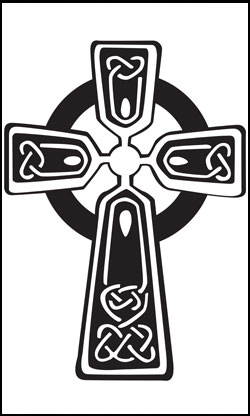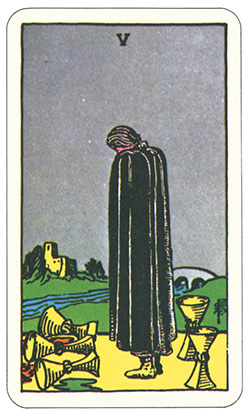 Five Of Cups
This is not always a welcome card when drawn. It gives a stern reminder that nothing will last forever, not even sorrow.
The image depicts a sad and sorrowful soul, with their back turned and looking at the ground. The three cups that have fallen over mean that there is a sense of loss and most certainly some type of disappointment, while the two that remain standing are cups of love and are encouraging you to remember that not all the cups have been knocked over.
Try to remain optimistic when bad luck strikes.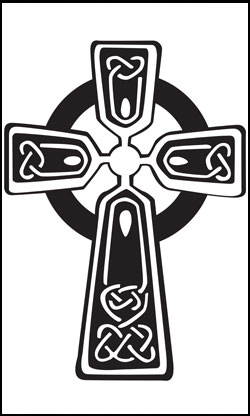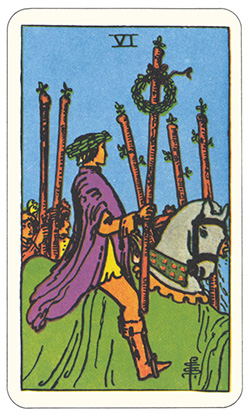 Six Of Wands
The 6 of Wands often symbolizes self confidence and the feeling of recognition.
You have or will very shortly, receive some form of public recognition that you can be proud of, for it has been something you have worked on so diligently.
There is also an element of fame associated with this card.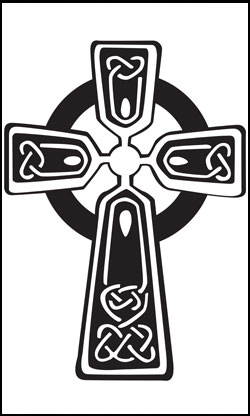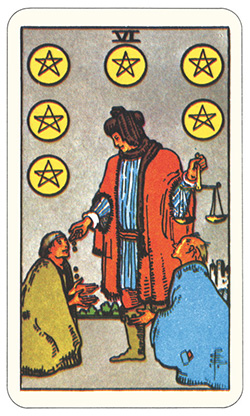 Six Of Pentacles
The Six of Pentacles is a great card to receive in a reading and represents a gift.
It especially signifies that the gift is something you so desperately need or desire. Perhaps you have felt left out in a relationship, or your finances have been low.
Whatever your strong feelings of desire or need are, you can be sure you will be rewarded with them.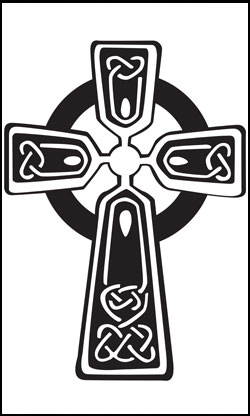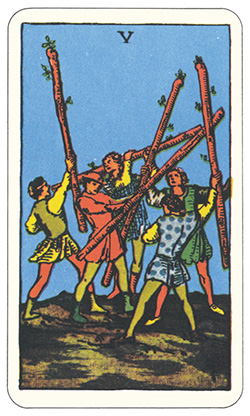 Five Of Wands
Also known as the competition card, the Five of Wands can bring an unwelcome message.
In business, it can mean that there is somebody trying to outdo you, and their methods may not be "by the books".
In love, it can mean that somebody is also trying to compete for your partner, or perhaps you!
While this cards message moves quickly as it is a wand card, you can be sure that this problem will disappear as quickly as it arrives.
A great reminder to not take things for granted, and that there will always be someone else trying to outdo you.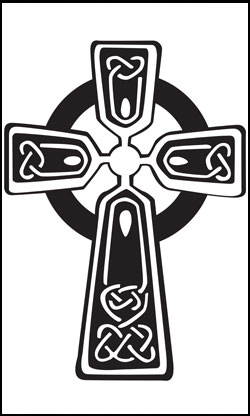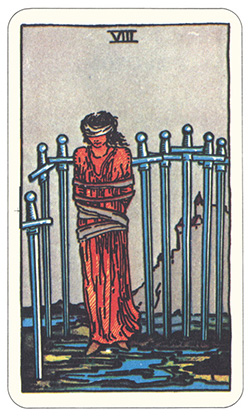 Eight Of Swords
The Eight Of Swords can be a sign of bad luck. The cards image shows a blindfolded and restrained woman standing in front of several swords that have been driven into the ground.
The message that is usually gleaned from this card is that you have obstacles in your path. The blindfold can symbolize that you may be blind to what the true obstacles really are and the depicted restraints can mean that there is not much you can do about them.
The sword closest to the woman is a message meaning that regardless of the situation, you need to stand your ground as you still have the truth close to you.
Shuffle Cards
Flip All Cards
How To Interpret This Spread
This image shows the true layout of a Celtic Cross Spread. As mentioned above, we have laid out your cards in an easy to view format as you are receiving your reading on a mobile device, tablet or computer, and the traditional layout does not suit digital formats.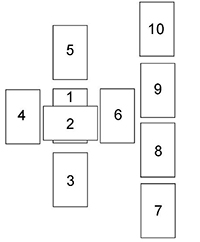 CARD 1 = PRESENT
CARD 2 = POTENTIAL/CHALLENGES
CARD 3 = CAUSE/FOCUS
CARD 4 = PAST
CARD 5 = ATTITUDES & BELIEFS/STRENGTHS
CARD 6 = NEAR FUTURE
CARD 7 = APPROACH (SUGGESTION)
CARD 8 = WHAT YOU SHOULD KNOW (OUTSIDE INFLUENCE)
CARD 9 = HOPES/FEARS
CARD 10 = OUTCOME/FUTURE
The Celtic Cross spread is the oldest known and without a doubt, the most popular pattern for Tarot readings. It is said that the survival of this spread is due to the energy from the amount of people who use this particular spread daily, and the decades of use throughout the world.
It is divided into two sections, namely the "Circle/Cross" on the left side, made up of two crosses – a central one (two cards) nested within a larger cross (six cards), and the Staff on the right side, as shown in the above diagram. The "Circle/Cross" stems from the Celtic cross which can be found throughout the country of Ireland. It symbolizes the unity of all events.
The feminine energy of the Circular section works together with the masculine energy of the Staff section.