Welcome to Lotus Tarot's Free Celtic Cross Spread. Below are ten cards that have been drawn for you, feel free to shuffle these if you like. The cards are listed in ten positions which are explained in further on how to interpret the Celtic Cross Spread.
For the sake of those on mobile and tablet devices, we have laid out the cards in a two to a line format. Your cards are numbered as shown in the image here, from 1 through to 10.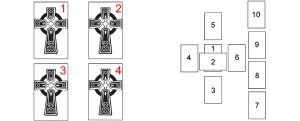 Your Spread Layout VS The Celtic Cross Spread
Simply match up your cards to the positions and find the positions descriptions below.
How To Use This Reader
Click on the card image to reveal your card
Click the cards image again to read the description
Use "Shuffle Cards" to begin a new reading
Use "Flip All Cards" to overturn all the cards at once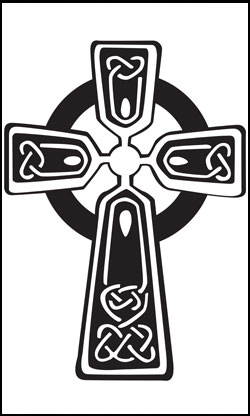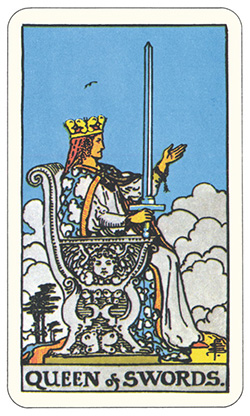 Queen Of Swords
A female Libra will most likely enter your life when you see the Queen of Swords drawn.

The Queen of Swords is a bit of a loner and prefers to focus on practical issues, instead of emotional ones. A very rational card and there is a good chance, that the Queen is you!

This card is bringing a message that you must not let emotion cloud your judgement, and to make sensible and well thought out decisions with proper logic and reasoning.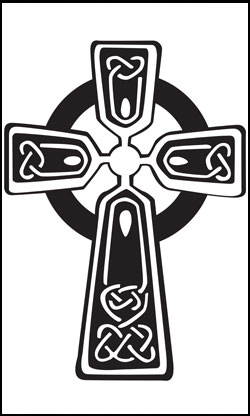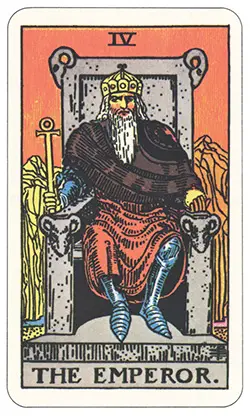 The Emperor
The Emperor Card is closely associated with Aries, which in turn makes the Emperor an excellent leader in your Tarot reading.

As a natural born leader, he commands a level of authority. When this card is drawn, it could be representing a judge, law enforcement officer, superior or somebody in a similar position in your life. The Emperor can also symbolize a father figure. This is because it represents Jupiter, the god of gods.

While the Emperor is of a high ranking and standing, he is a warm character, and is extremely fair and just, that can offer the same love of a father. This is certainly a welcome card and one that you can count on, wherever it appears in your reading.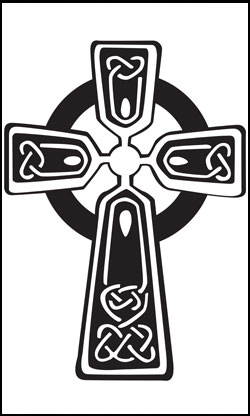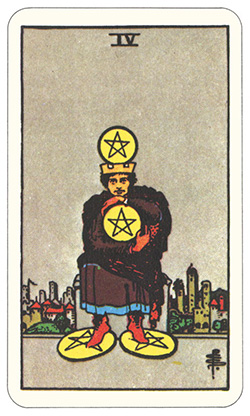 Four Of Pentacles
You are likely to be holding onto something when the Four of Pentacles turns up.

Usually due to the fear of letting go, you are holding on to something unnecessarily.

This card is a reminder to analyze your current situation and identify what and more importantly, why you are so scared of losing something specific.

The message is that you don't have anything to worry about, and that you may be creating fear for no reason.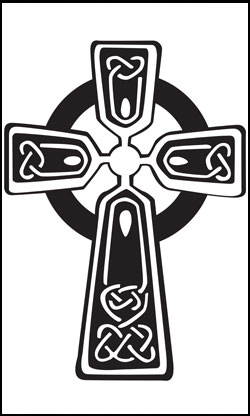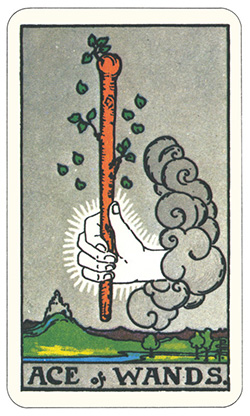 Ace Of Wands
The Ace of Wands is an excellent omen to receive in any tarot reading.

It usually symbolizes new beginnings in your creative or passionate ventures in life.

This new beginning usually happens quickly and is incoming fast, most likely giving you a complete surprise when it comes. The image shows the hand coming from the clouds, meaning that this will come to you naturally and is not a gift you need to search for.

The most common associations are new connections with other souls, a new partner, a vacation/stint overseas, or something new in the creative area of your life.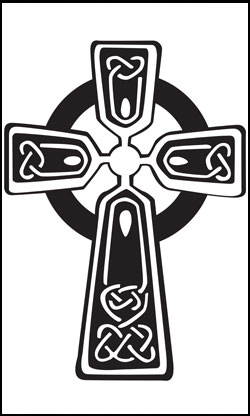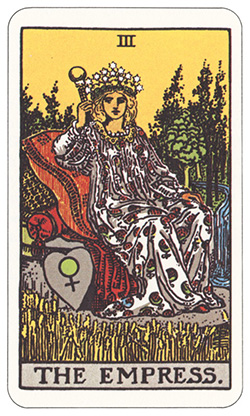 The Empress
The Empress is known as the mother of the Tarot. If you look closely at her crown you will see a jewel for each of the 12 zodiac signs. She is smiling, partly due to the amount of luxury she is enjoying.

The Empress has good reasons to smile and be proud, however, as she rightfully earned her success.

The Empress is a very feminine card, and as such, represents parenthood, fertility, and empowerment. Pay close attention to where this card is drawn in your spread and understand that you have every right to be proud of success and achievement.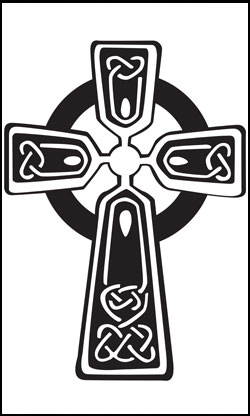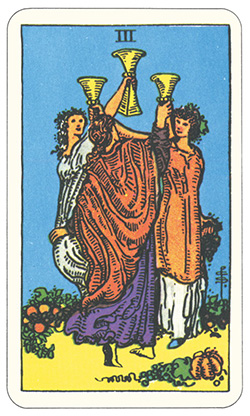 Three Of Cups
The Three of Cups is a celebration card. When you see this card, you can generally expect a celebration or special occasion. Many people consider this card to represent a date.

It can also symbolize a wedding or similar occasion. There is a high chance that this occasion will feature at least several women, as this is a very feminine card.

The card also means that good times are ahead and there are causes for celebration going forward, regardless of the situation at hand.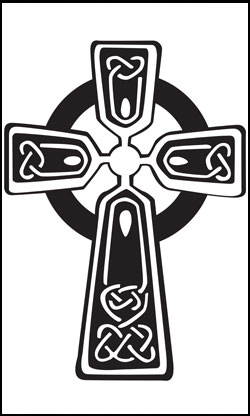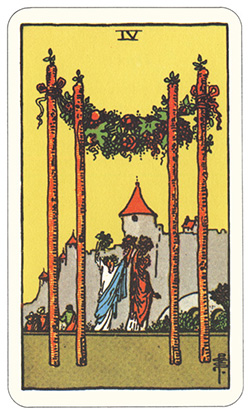 Four Of Wands
The number four is a symbol of foundation, and in western cultures, is a strong number of stability.

This card brings the message that there is good news coming, and bright skies ahead. Many times when this card arrives, it is because you have been struggling with something for too long, and that this problem is about to be resolved. This is the magic of the wand!

The number four also has a close association to the home, therefore you may be moving or renovating your home, or have something to do with a loved ones home.

Re-location to a new and better home outside of your current city or country could also be the message here.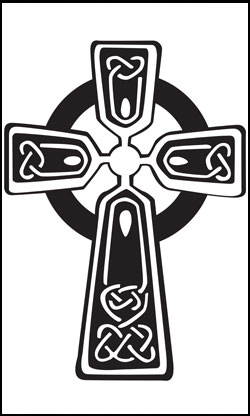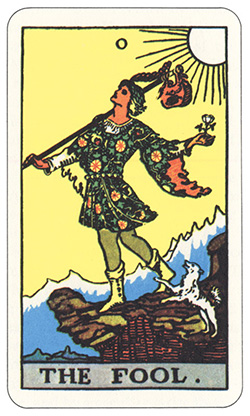 The Fool
Something new is coming, and whether it be an experience or a new endeavor, it will be off the back of you releasing all of the things holding you back in life.

The Fool is reminding you to not let fear and uncertainty scare you of exploration, and that you must move forward on your path.

You must also embrace the new experience with full focus and attention.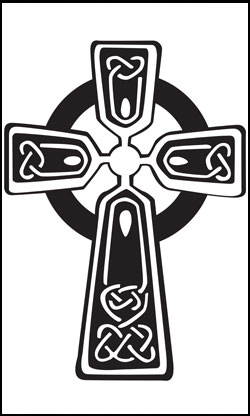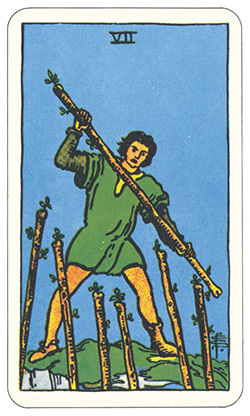 Seven Of Wands
You may have already been putting up a huge effort towards your goals, and the Seven Of Wands is a reminder that regardless of the darkness you encounter on your path, to keep your integrity, as success is a sure thing for you.

The character in the image is standing tall and proud, on the top of a hill, indicating that you are the bigger person here, and consider your integrity one of your greatest strengths. It will take you far and towards bright rewards.

In business, this can mean that you are making a bold decision that will throw your opponent off guard, and that there is nothing they can do to fault you.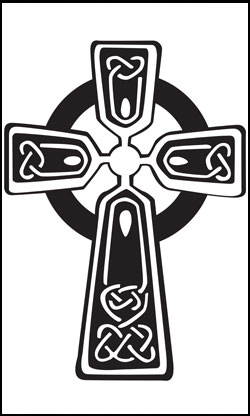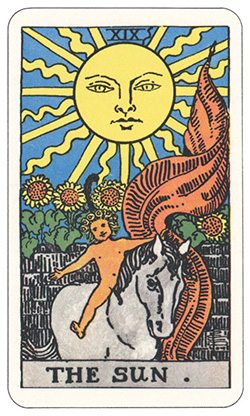 The Sun
Today is an excellent day. When the Sun Card shines down on you in a reading there is an optimistic message to be gleaned from its appearance.

Your success is a guarantee when The Sun Card rises from the deck. This success is usually related to an outside event for others to see and admire.

If it has not already happened then you can very shortly expect great successes and achievements.

Shuffle Cards

Flip All Cards



How To Interpret This Spread
This image shows the true layout of a Celtic Cross Spread. As mentioned above, we have laid out your cards in an easy to view format as you are receiving your reading on a mobile device, tablet or computer, and the traditional layout does not suit digital formats.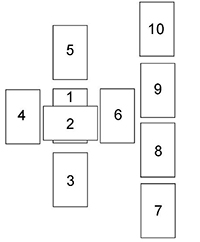 CARD 1 = PRESENT
CARD 2 = POTENTIAL/CHALLENGES
CARD 3 = CAUSE/FOCUS
CARD 4 = PAST
CARD 5 = ATTITUDES & BELIEFS/STRENGTHS
CARD 6 = NEAR FUTURE
CARD 7 = APPROACH (SUGGESTION)
CARD 8 = WHAT YOU SHOULD KNOW (OUTSIDE INFLUENCE)
CARD 9 = HOPES/FEARS
CARD 10 = OUTCOME/FUTURE
The Celtic Cross spread is the oldest known and without a doubt, the most popular pattern for Tarot readings. It is said that the survival of this spread is due to the energy from the amount of people who use this particular spread daily, and the decades of use throughout the world.
It is divided into two sections, namely the "Circle/Cross" on the left side, made up of two crosses – a central one (two cards) nested within a larger cross (six cards), and the Staff on the right side, as shown in the above diagram. The "Circle/Cross" stems from the Celtic cross which can be found throughout the country of Ireland. It symbolizes the unity of all events.
The feminine energy of the Circular section works together with the masculine energy of the Staff section.
Play Our Other Free Tarot Games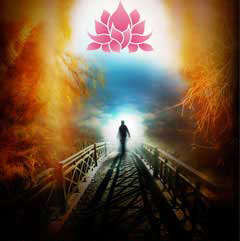 Our very popular Yes No Oracle is our basic fortune telling card that you can use everyday to ask for an answer.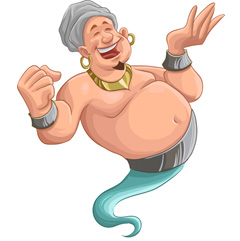 An alternative to the Yes No Oracle, The Genie can also give you a yes or no answer. It is a fortune telling card that you can use everyday for a single question where yes or no is enough.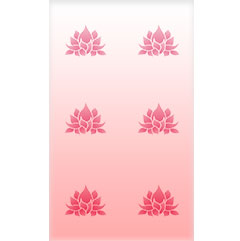 The 6 Card Tarot Spread allows for a medium scale reading. Not too short, and not too long!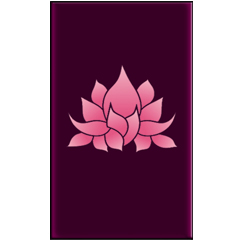 Our One Card Tarot reader is a tool that you can use frequently, and most people use this either daily, on a certain day of the week, monthly or on special occasions such as birthdays.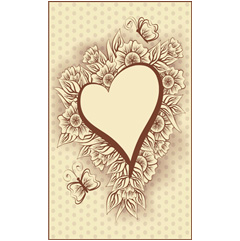 Our free, 3 Card Love Tarot Readings are available to you, without any obligation or requirement for your personal details.