Welcome to Lotus Tarot's Free Celtic Cross Spread. Below are ten cards that have been drawn for you, feel free to shuffle these if you like. The cards are listed in ten positions which are explained in further on how to interpret the Celtic Cross Spread.
For the sake of those on mobile and tablet devices, we have laid out the cards in a two to a line format. Your cards are numbered as shown in the image here, from 1 through to 10.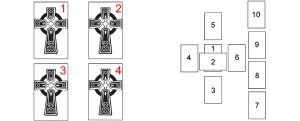 Your Spread Layout VS The Celtic Cross Spread
Simply match up your cards to the positions and find the positions descriptions below.
How To Use This Reader
Click on the card image to reveal your card
Click the cards image again to read the description
Use "Shuffle Cards" to begin a new reading
Use "Flip All Cards" to overturn all the cards at once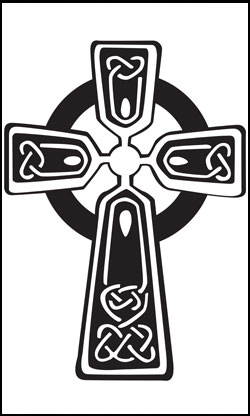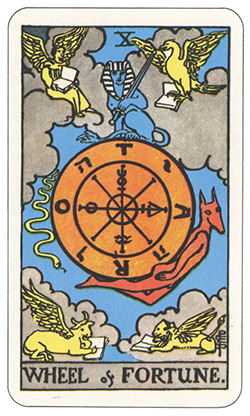 Wheel Of Fortune
There is an optimistic message when this card is drawn.

The Wheel Of Fortune card is related to Jupiter, and its magic. Good luck is coming your way and brings with it good fortunes.

Being a very karmic card, in that it is a wheel, indicates that good karma is coming back to you.

The card also wants you to know that you do not need to do anything different or in addition to your current efforts, as the good fortune is already deserved.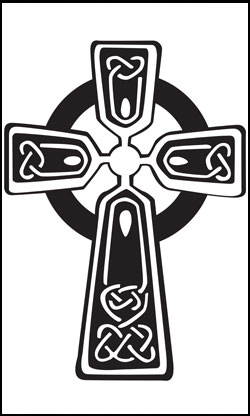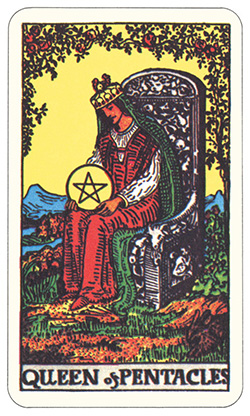 Queen Of Pentacles
There is a message of abundance and possible fertility when this card makes an appearance.

The Queen of Pentacles is reminding you that while there may not be too much going on around you now, you are still as good as gold and ready for what the future brings. It is also an indicator that what you have been doing, especially for family and close contacts, is great and will produce the fruits of your labor soon.

While you may not particularly feel it, you are actually doing very well.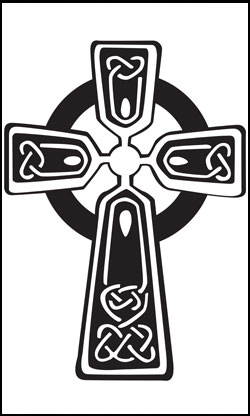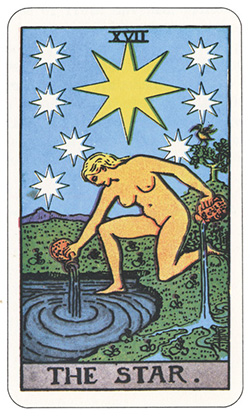 The Star
The Star brings creativity and peace the majority of the time when it is drawn. Being related to the zodiac sign Aquarius, it can signal a re-connection with a loved one.

It is a great reminder that having gone through tough times, that better times always present themselves eventually. These better times can have somebody involved who is integral in the process, and doing it without reward. Often, readers refer to this card as a persons guardian angel.

This is a great card to receive in a favorable position, as it is often associated with good fortune and success.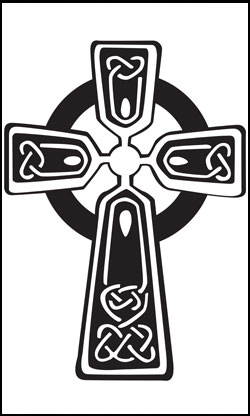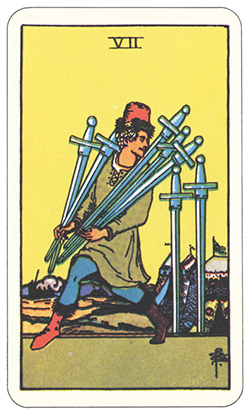 Seven Of Swords
There is a sense of deception in the air when the Seven of Swords is drawn. In love, this can mean that your significant other is being unfaithful, or is not being forthcoming with sensitive or important information.

In business, it can mean that a colleague has done something deceptive and most likely thinks they have gotten away with it. The weight of seven swords, however, is too great to handle and they have it coming to them. The truth will be revealed.

The message here, is to be very wary of deceit around you, even though it will surface for all to see. If you are the one being deceitful, then it is about to bite you.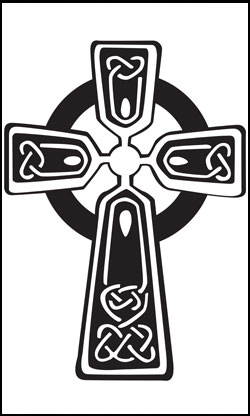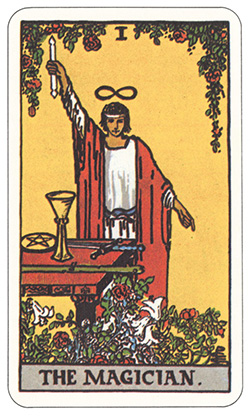 The Magician
The Magician often appears in readings when you are currently having everything go your way.

He is after all, the creator of destiny. When The Magician appears, it is a reminder that your talents and skills are what will give you sure success.

The Magician also is reminding you that you need to make things happen. If your intuition is telling you to do something, and it's a strong enough feeling, the Magician will make an appearance. Follow through on what your intuition is telling you.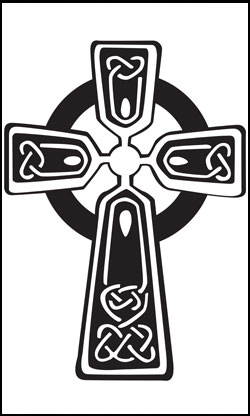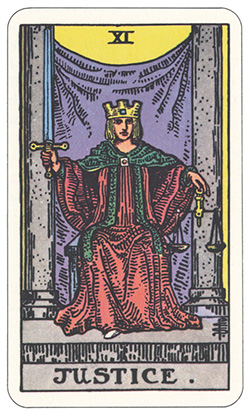 Justice
The pillars of justice are both prominent features in this card, along with the woman on the throne and what she symbolizes.

The zodiac sign, Libra, is represented by this card, which is fitting as Libra is the sign of balance and harmony and teaches us to do the right thing in life. Often, when this card is drawn, it indicates some form of a legal matter in your life that involves your decisions.

It can also simply represent information that is critical to your decision making process, or the decision made by somebody else, which involves you. The good news is that the decision is usually in your favor.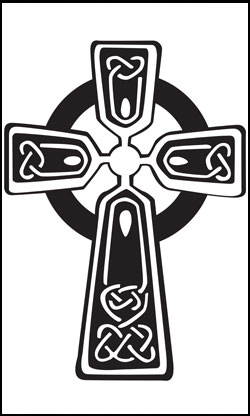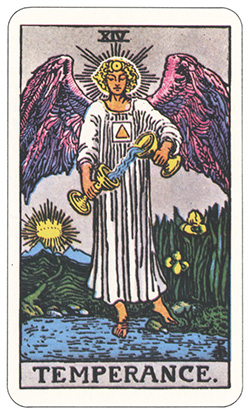 Temperance
This card brings a lesson of balance. This card being closely related to the Zodiac sign, Sagittarius, also brings hints of harmony in your life.

The Sagittarius sign is associated with deep thought and philosophy, which with proper use, can produce harmony .

The appearance of this card is often a warning to take a step back and not to move too quickly on something. You can consider the card to bring a lesson of moderation with it.

This can mean anything that you have been doing in excess, from substance abuse to smothering someone with too much attention.

As the card displays, the water moving between the cups can mean that travel is either happening now or in the near future. You can also expect some foreign communication/connection.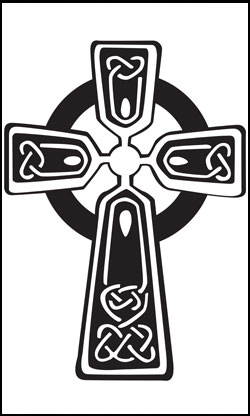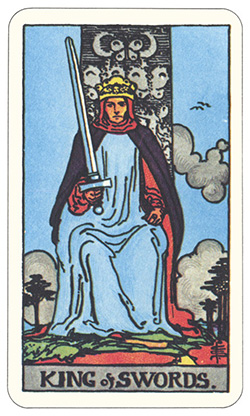 King Of Swords
The Sword cards represent the air signs and when this card is drawn, it usually means that a Libra, Gemini, or Aquarius is in the picture, however, it's usually an Aquarius.

It can also symbolize somebody who is in control of some land, perhaps a landlord, council or governing body over some area of land that concerns you. When this card is drawn, it usually means that everything associated with the land or property are in sound order due to following the proper procedures.

If this is related to an emotional situation, it is a reminder to remove all emotion and to use logic and reason to make the correct decision.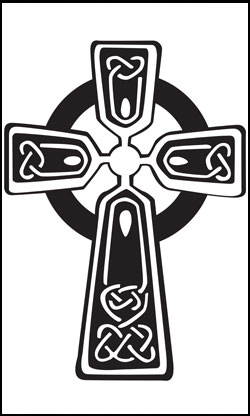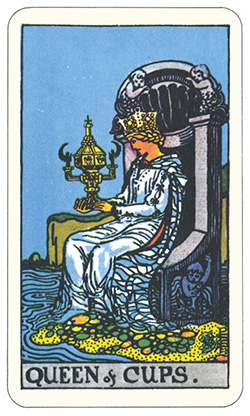 Queen Of Cups
The Queen of Cups is associated with love and compassion.

All those around her, and those who have this card drawn, are graced with the joy she brings.

Any love or compassion that you give or receive today, will be of a level much higher than usual, and be true and sincere.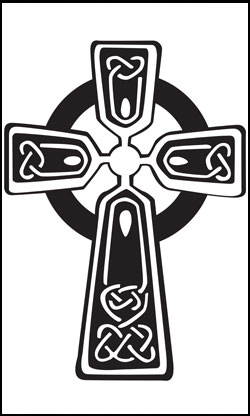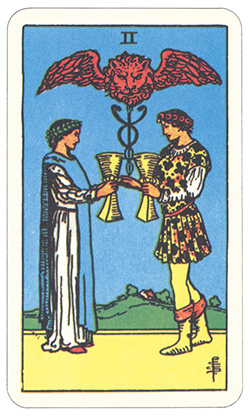 Two Of Cups
This card represents a pair in love and shows the characters celebrating their connection with each other.

Both parties bring true, unconditional love that has no hidden agendas. While this card makes a common appearance in love readings, it can also show when questioning business matters.

Whether or not it is a partner in love or in business, this card represents that your life has, or will shortly have somebody who is an excellent partner to have by your side.

Shuffle Cards

Flip All Cards



How To Interpret This Spread
This image shows the true layout of a Celtic Cross Spread. As mentioned above, we have laid out your cards in an easy to view format as you are receiving your reading on a mobile device, tablet or computer, and the traditional layout does not suit digital formats.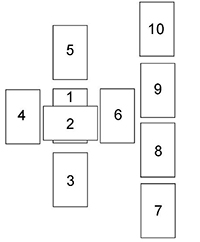 CARD 1 = PRESENT
CARD 2 = POTENTIAL/CHALLENGES
CARD 3 = CAUSE/FOCUS
CARD 4 = PAST
CARD 5 = ATTITUDES & BELIEFS/STRENGTHS
CARD 6 = NEAR FUTURE
CARD 7 = APPROACH (SUGGESTION)
CARD 8 = WHAT YOU SHOULD KNOW (OUTSIDE INFLUENCE)
CARD 9 = HOPES/FEARS
CARD 10 = OUTCOME/FUTURE
The Celtic Cross spread is the oldest known and without a doubt, the most popular pattern for Tarot readings. It is said that the survival of this spread is due to the energy from the amount of people who use this particular spread daily, and the decades of use throughout the world.
It is divided into two sections, namely the "Circle/Cross" on the left side, made up of two crosses – a central one (two cards) nested within a larger cross (six cards), and the Staff on the right side, as shown in the above diagram. The "Circle/Cross" stems from the Celtic cross which can be found throughout the country of Ireland. It symbolizes the unity of all events.
The feminine energy of the Circular section works together with the masculine energy of the Staff section.
Play Our Other Free Tarot Games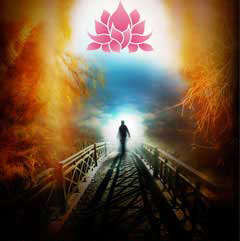 Our very popular Yes No Oracle is our basic fortune telling card that you can use everyday to ask for an answer.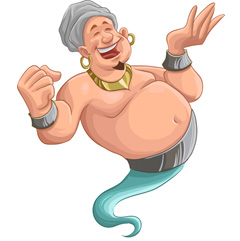 An alternative to the Yes No Oracle, The Genie can also give you a yes or no answer. It is a fortune telling card that you can use everyday for a single question where yes or no is enough.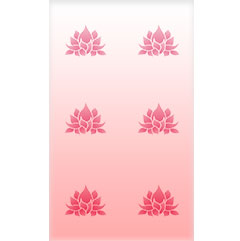 The 6 Card Tarot Spread allows for a medium scale reading. Not too short, and not too long!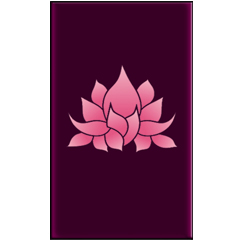 Our One Card Tarot reader is a tool that you can use frequently, and most people use this either daily, on a certain day of the week, monthly or on special occasions such as birthdays.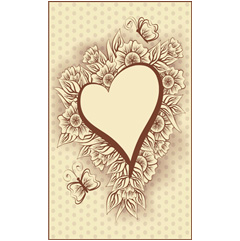 Our free, 3 Card Love Tarot Readings are available to you, without any obligation or requirement for your personal details.