Celtic Cross Spread
Welcome to Lotus Tarot's Free Celtic Cross Spread. Below are ten cards that have been drawn for you, feel free to shuffle these if you like. The cards are listed in ten positions which are explained in further on how to interpret the Celtic Cross Spread.
For the sake of those on mobile and tablet devices, we have laid out the cards in a two to a line format. Your cards are numbered as shown in the image here, from 1 through to 10.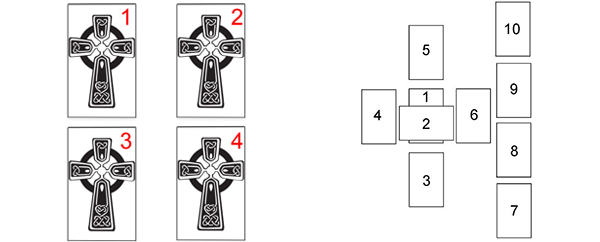 Your Spread Layout VS The Celtic Cross Spread
Simply match up your cards to the positions and find the positions descriptions below.
How To Use This Reader
Click on the card image to reveal your card
Click the cards image again to read the description
Use "Shuffle Cards" to begin a new reading
Use "Flip All Cards" to overturn all the cards at once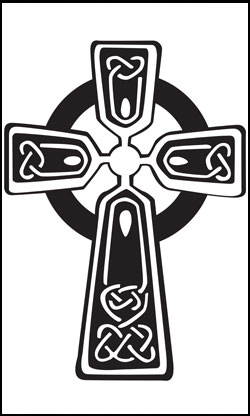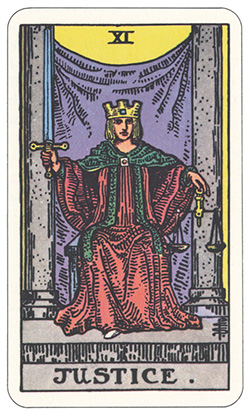 Justice
The pillars of justice are both prominent features in this card, along with the woman on the throne and what she symbolizes.
The zodiac sign, Libra, is represented by this card, which is fitting as Libra is the sign of balance and harmony and teaches us to do the right thing in life. Often, when this card is drawn, it indicates some form of a legal matter in your life that involves your decisions.
It can also simply represent information that is critical to your decision making process, or the decision made by somebody else, which involves you. The good news is that the decision is usually in your favor.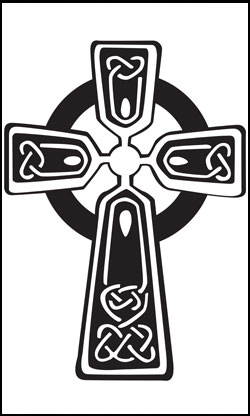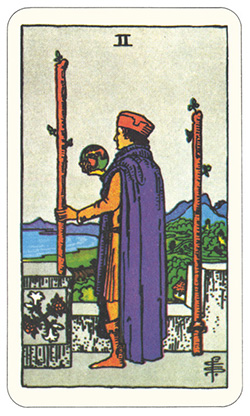 Two Of Wands
A card closely related to preparation. the Two of Wands can bring a message of confusion, in that you are stuck in choosing between one thing over another.
While the card can bring uncertainty and anxiousness with these choices, in reality they are not too heavy, and you are likely to be making them bigger concerns than they deserve to be.
The message here is to follow your instincts and not overthink on this decision.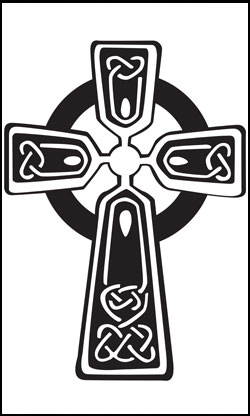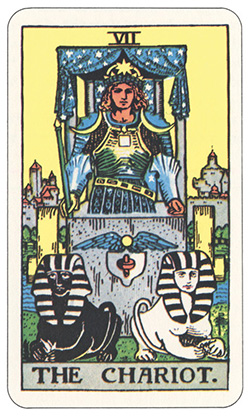 The Chariot
The Chariot is telling you that you need to take control of current situation. This card can also indicate that the Zodiac sign, Cancer, is likely to show up soon.
Cancerians are usually successful through hard work and continued efforts. That can also be the message here, that your success is sure, but it will take long, hard work.
Are you considering a more senior position at work or taking on more work? What about study or upskilling?
The Chariot is assuring you of your future success, but reminding you to keep your eyes on the prize and not give up.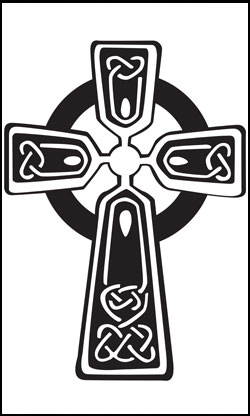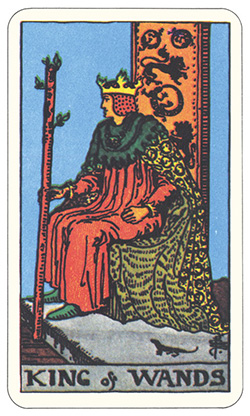 King Of Wands
The King of Wands is usually associated with an older man, and his assistance in a pressing matter.
He relates to the fire signs, and while young at heart and full of energy, he is very straight and direct in his ways. He exudes wisdom and has arrived to help you.
His appearance can often signify that a gift or luck in finances and wealth are about to cross your path. An excellent card to receive in any Tarot Reading.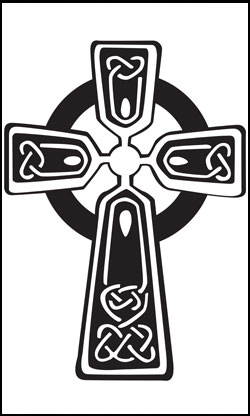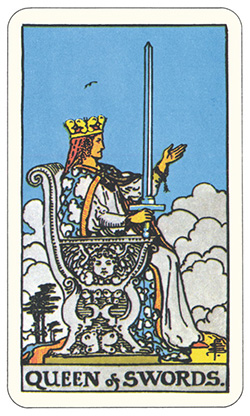 Queen Of Swords
A female Libra will most likely enter your life when you see the Queen of Swords drawn.
The Queen of Swords is a bit of a loner and prefers to focus on practical issues, instead of emotional ones. A very rational card and there is a good chance, that the Queen is you!
This card is bringing a message that you must not let emotion cloud your judgement, and to make sensible and well thought out decisions with proper logic and reasoning.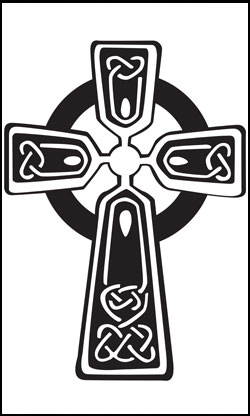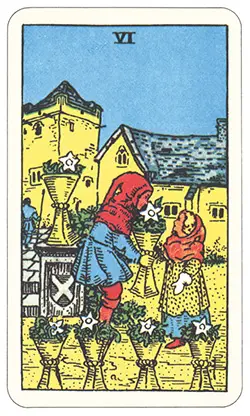 Six Of Cups
The Six of Cups brings with it a message to be grateful for what you have and to not take life too seriously, for their are many things to be enjoyed in your future.
This card can bring nostalgia with it and you may have some fond memories or re-connections with souls from the past.
There may also be somebody else from the past who is thinking deeply about you and your activities, so you can also expect to bump into a past connection soon.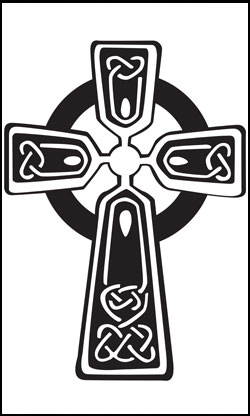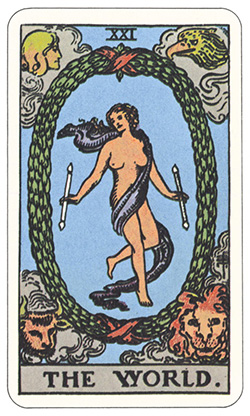 The World
This is a wonderful card to receive in any reading. It is also very closely related to the Sun Card, however this card is more of a philipshoical one. It also shares close ties with the Wheel Of Fortune card.
This Tarot card displays the four signs of the zodiac in each corner, Aquarius, Leo, Scorpio, and Taurus. These signs represent each of the four pillars that uphold the foundation of a world of completion. It is said that when this card is revealed that a major part or cycle of your life is drawing to a close, however, with that closing, comes a bright, new opening.
Success should be in your life right now, as the woman depicted is celebrating her success. Wherever this card lands in your reading will mean that this area is currently full of success.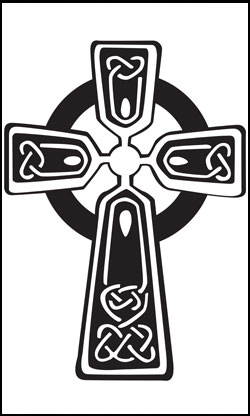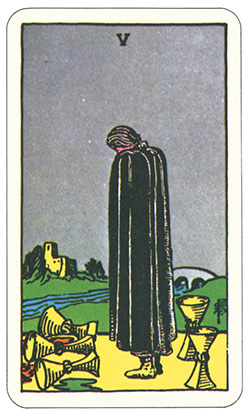 Five Of Cups
This is not always a welcome card when drawn. It gives a stern reminder that nothing will last forever, not even sorrow.
The image depicts a sad and sorrowful soul, with their back turned and looking at the ground. The three cups that have fallen over mean that there is a sense of loss and most certainly some type of disappointment, while the two that remain standing are cups of love and are encouraging you to remember that not all the cups have been knocked over.
Try to remain optimistic when bad luck strikes.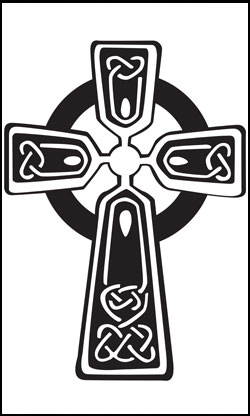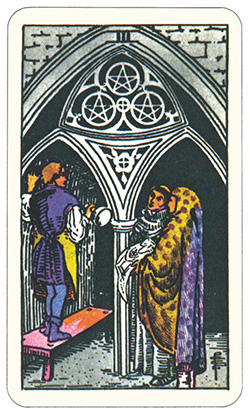 Three of Pentacles
This card often indicates that this is a good time in your career, and this is helped along by others. Pentacle cards usually relate to work and careers.
When you see this card, it can also indicate that one or more of the smaller steps towards a bigger goal have been or are just about to be completed, but that the end goal is still a work in progress.
It can also mean that you may be seeking assistance or require some from a third party.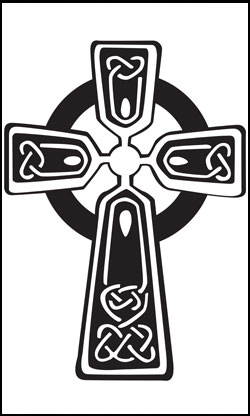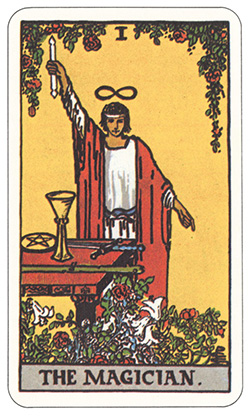 The Magician
The Magician often appears in readings when you are currently having everything go your way.
He is after all, the creator of destiny. When The Magician appears, it is a reminder that your talents and skills are what will give you sure success.
The Magician also is reminding you that you need to make things happen. If your intuition is telling you to do something, and it's a strong enough feeling, the Magician will make an appearance. Follow through on what your intuition is telling you.
Shuffle Cards
Flip All Cards
How To Interpret This Spread
This image shows the true layout of a Celtic Cross Spread. As mentioned above, we have laid out your cards in an easy to view format as you are receiving your reading on a mobile device, tablet or computer, and the traditional layout does not suit digital formats.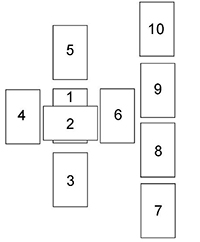 CARD 1 = PRESENT
CARD 2 = POTENTIAL/CHALLENGES
CARD 3 = CAUSE/FOCUS
CARD 4 = PAST
CARD 5 = ATTITUDES & BELIEFS/STRENGTHS
CARD 6 = NEAR FUTURE
CARD 7 = APPROACH (SUGGESTION)
CARD 8 = WHAT YOU SHOULD KNOW (OUTSIDE INFLUENCE)
CARD 9 = HOPES/FEARS
CARD 10 = OUTCOME/FUTURE
The Celtic Cross spread is the oldest known and without a doubt, the most popular pattern for Tarot readings. It is said that the survival of this spread is due to the energy from the amount of people who use this particular spread daily, and the decades of use throughout the world.
It is divided into two sections, namely the "Circle/Cross" on the left side, made up of two crosses – a central one (two cards) nested within a larger cross (six cards), and the Staff on the right side, as shown in the above diagram. The "Circle/Cross" stems from the Celtic cross which can be found throughout the country of Ireland. It symbolizes the unity of all events.
The feminine energy of the Circular section works together with the masculine energy of the Staff section.